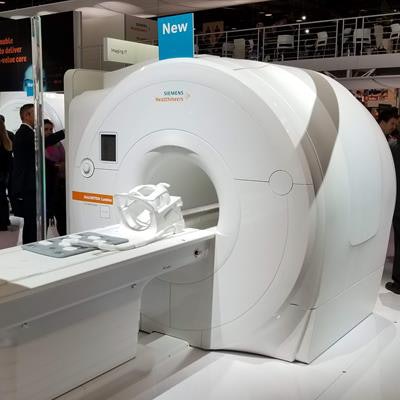 Siemens Healthineers has received clearance from the U.S. Food and Drug Administration (FDA) for its 3-tesla Magnetom Lumina MRI scanner.
Siemens launched the scanner at RSNA 2018, and it features the company's BioMatrix patient personalization technology, a 70-cm bore, and the company's Go technologies powered by artificial intelligence (AI) to accelerate workflow.
Magnetom Lumina's new Turbo Suite acceleration packages are designed to reduce scan times for routine musculoskeletal exams of various parts of the body by as much as 50%, according to the company.
Siemens also offers an optional dockable table for Magnetom Lumina and plans to offer an optional Innovision in-bore Infotainment system. The technology would give patients the illusion of being inside a larger bore and provide video and sound to ease anxiety during the scan. Innovision is currently under development.