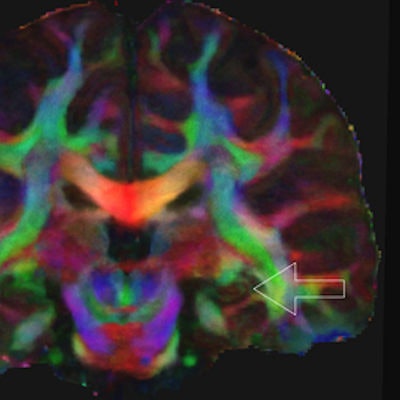 Researchers at the University of Arizona (UA) are on a path to creating an MRI protocol that could produce high-resolution brain images in as little as 15 minutes to benefit patients who have an especially difficult time remaining still during scans.
The process is a multishot diffusion-weighted imaging (DWI) technique known as multiplexed sensitivity-encoding (MUSE). So far, MUSE has demonstrated the potential to reduce motion artifacts and produce multiple types of MRI data, such as information on iron levels, gray-matter volume, and white-matter connectivity, according to the university.
"With this research, MRI scans will be faster and higher quality and will produce richer information, so we can be better informed on the stage of disease or will even be able to see if there's any brain signal abnormality before the disease is diagnosed," said principal investigator Nan-kuei Chen, PhD, in a release from UA. "With earlier detection, we might be able to delay the disease's progress."
Chen and colleagues previously studied the protocol's performance using 3-tesla MRI scanners and healthy adult volunteers. At that time, they reported that MUSE "should prove highly valuable for mapping brain structures and connectivities at high spatial resolution for neuroscience studies" (NeuroImage, May 15, 2013, Vol. 72, pp. 41-47).
The researchers recently received a $2.1 million grant from the U.S. National Institute of Neurological Disorders and Stroke (NINDS) for a five-year project to study MUSE for use in patients who have had a stroke or have tremors due to Parkinson's disease.
To evaluate patients with Parkinson's disease, an MRI scan acquires long-exposure images, which can add noise and reduce image quality. To combat this, MUSE's noise-limiting process has been shown to reduce noise-related errors by as much as 90%. In addition, by alternating scan direction (top down versus bottom up), MUSE can address distortion and improve quality, according to UA.
"The techniques that are being developed in this grant will have application to many other neurologic disorders, from Alzheimer's disease to cerebral palsy, and will help in their diagnosis, treatment, and treatment evaluation," said co-researcher Ted Trouard, PhD. "Having more accurate and faster MRI techniques will push many fields forward."
The researchers also plan to conduct a longitudinal study to monitor the progression of Parkinson's disease in high-risk patients. They will also evaluate the accuracy of the MUSE images obtained from these patients by comparing them with images from healthy subjects.