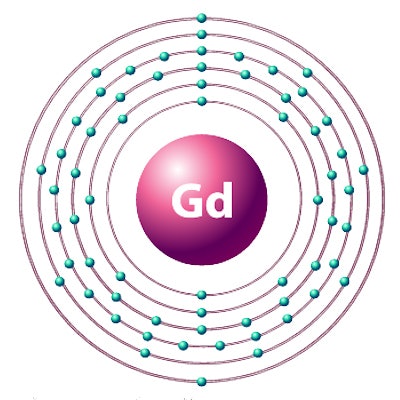 What's causing gadolinium retention after the use of gadolinium-based contrast agents (GBCAs) for MRI scans? Even the most knowledgeable experts don't know for sure, but they hope to clear up some of the confusion with a new research road map unveiled September 11 in a special report published in Radiology.
Researchers from around the world created the road map with two routes to explore the issue of gadolinium retention and its effects. One strategy will target animal and basic science research, while the other will focus on clinical research.
"The greatest priority for the research road map is to understand if gadolinium retention is causally associated with clinical manifestations, as this knowledge will help direct and define the urgency of subsequent research efforts," wrote first author Dr. Robert McDonald, a neuroradiologist at the Mayo Clinic in Rochester, MN, and colleagues. "In spite of more than 30 years of use of GBCAs, important information about the biodistribution and tissue interactions of each GBCA in clinical use remains unknown."
The report's foundation comes from a two-day workshop in February, during which some 100 researchers, GBCA manufacturers, and representatives of the U.S. Food and Drug Administration (FDA) met to discuss how to determine why increased gadolinium -- as indicated by higher signal intensity on MRI scans -- is being seen in patients years after they receive a gadolinium-based contrast agent.
Linear GBCAs are thought to result in higher signal intensity in brain regions, compared with macrocyclic GBCAs. In addition, previous studies have discovered gadolinium accumulation in bone, skin, liver, and portions of the brain that did not demonstrate signal intensity increases on unenhanced MRI scans.
While GBCA proponents assert that the benefits of the agents outweigh their risks, a growing number of individuals worldwide are experiencing a variety of illnesses and debilitating symptoms that they attribute to GBCAs.
The researchers plan to explore questions that include the following:
What is the long-term biodistribution of intravenously administered GBCAs?
What is the toxic potential of chronically retained amounts of gadolinium in tissues?
What are the mechanisms of this toxicity?
What are the best approaches for identifying and quantifying gadolinium species in tissues?
Are there measurable clinical manifestations (neurologic or nonneurologic)?
Is there a toxic dose threshold for chronic gadolinium exposure?
Are there common molecular mechanisms and clinical manifestations between chronic gadolinium retention and nephrogenic systemic fibrosis (NSF), a disease related to MRI contrast?
Are there altered dynamics of GBCAs in vulnerable populations?
"Not yet known is the extent, mechanism, chemical form, and clinical implications of chronic gadolinium retention for each GBCA in the general population and in vulnerable populations, such as children and those with relevant comorbidities that may be at higher risk for potential retention," the authors wrote. "These unknowns call for more systematic research and form the basis of this research road map to improve our understanding of gadolinium retention and its clinical importance."