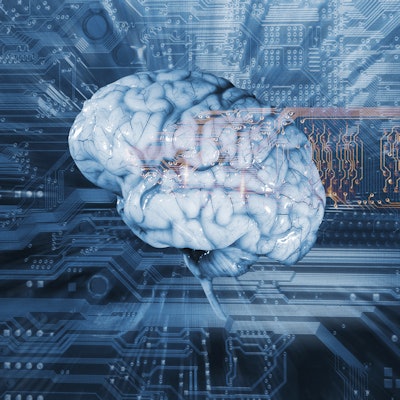 Can less really be more in MRI? Facebook and New York University (NYU) intend to find out with the launch of fastMRI, a collaborative project that aims -- with the help of artificial intelligence (AI) -- to make MRI scans up to 10 times faster by reconstructing diagnostic-quality images using much less raw data.
The collaboration combines complementary expertise between the Facebook Artificial Intelligence Research (FAIR) group and NYU's radiology department, bringing together Facebook's AI capabilities with NYU's experience in the imaging sciences domain to solve a real-world problem in medical imaging, said Dr. Yvonne Lui, an associate professor of radiology and associate chair of artificial intelligence at NYU School of Medicine.
"We build on our experience in accelerating MR imaging using a wide range of techniques, including parallel imaging, multiband technology, and compressive sensing," Lui told AuntMinnie.com. "This experience will inform our use of advanced AI methods to reconstruct diagnostic-quality images with vastly undersampled data. Our goal is to use any means necessary to accelerate MRI scans tenfold by decreasing the amount of data needed to reconstruct images, without compromise in image quality or diagnostic information content."
Accelerated MRI
Researchers in NYU's Center for Advanced Imaging Innovation and Research (CAI2R) have previously collaborated with colleagues at the University of Graz in Austria to publish articles on deep-learning applications for reconstruction of accelerated MR images. This work, published online November 8, 2017, in Magnetic Resonance in Medicine, demonstrated that several-fold scan accelerations were possible, and it documented some of the notable advantages of machine-learning approaches over traditional reconstruction algorithms, according to Lui.
"Since then, interest in AI for image reconstruction has burgeoned in the field, and a number of approaches have surfaced in a variety of publications, some incorporating known imaging physics to help promote generalizable results, and others relying more heavily on transformations learned entirely from training data," Lui said.
Specifically, the new partnership will leverage Facebook's experience with handling large-scale learning problems and the NYU radiology department's ability to generate large quantities of raw MR data. As a result, artificial neural networks will be trained with substantially larger datasets than have been used before for image reconstruction, she said.
"We will take advantage of our diverse collaborative team to try numerous approaches in parallel, in order to develop robust intuition about the problem and to settle on an optimal solution," Lui said.
Broad applications
The researchers said they will explore a broad range of applications in neuroimaging, musculoskeletal imaging, and abdominal imaging. The NYU imaging dataset consists of 10,000 clinical cases, comprising approximately 3 million MRI images of the knee, brain, and liver. All images and raw scanner data have been fully deidentified -- stripped of patient names and any other protected health information, according to the university.
They also plan to aim for higher accelerations than have previously been attempted and, in the future, to apply the technology to other imaging modalities, Lui said.
"In this project, we are initially focusing on MRI technology, but we believe that the tools that are developed can provide insight and potentially extend to a diverse array of other medical imaging applications, such as enabling ultralow-dose CT scans," she said.
Notably, the researchers will share the results of their work.
"We will provide both the algorithms and the datasets that emerge from this project as open-source resources in order to enable development across the imaging community and to accelerate ultimate clinical adoption," she said.
Lui emphasized that Facebook has no commercial intentions for this project.
"The mission at Facebook AI Research is, rather, to push the science of AI forward, and we at NYU School of Medicine are partnering with them on this project where we believe AI can have a significant value and positive impact on patient care," Lui said.