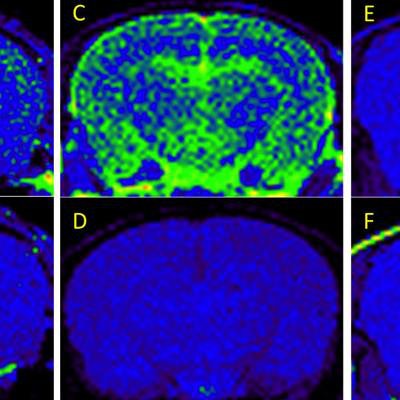 A new start-up company called Alzeca Biosciences is developing an MRI contrast agent that the company hopes will become an alternative to PET for early-stage diagnosis of Alzheimer's disease. The firm has hired imaging industry veteran Carlo Medici to leverage his experience in the contrast market.
Alzeca has developed a nanoparticle technology called ADx that can carry an encapsulated imaging agent across the blood-brain barrier and bind to amyloid plaque. Patients could then be imaged with a standard clinical MRI scanner to detect accumulations of the agent that signify a buildup of amyloid, considered to be a hallmark of Alzheimer's pathology.
The agent would offer an alternative to PET-based techniques for Alzheimer's detection, such as Amyvid from Eli Lilly and Vizamyl from GE Healthcare. While these agents are effective, an MRI-based tool could have advantages such as no radiation dose and no need for special radiopharmaceutical handling, Medici said.
Return to radiology
Medici joined Alzeca in May 2016 after answering a call from scientists who had conducted early work on the technology behind Alzeca. Most of this was performed by Dr. Ananth Annapragada and Dr. Jason Eriksen at Texas Children's Hospital and the University of Houston.
Medici is best known in radiology for spending 12 years as CEO of Bracco Diagnostics, the U.S. subsidiary of Italian contrast developer Bracco. After leaving Bracco in 2013 he spent several years at the executive level for established healthcare companies outside of radiology, but saw Alzeca as a promising opportunity to both return to radiology and gain experience leading a start-up firm.
Medici believes that while PET has an early lead in Alzheimer's diagnosis, with three commercially available agents, MRI could potentially be a better tool for a number of reasons. For example, it uses no ionizing radiation; there is a far larger installed base of MRI scanners than PET systems; and, in general, MRI contrast agents are less expensive and easier to handle than PET radiopharmaceuticals, while providing better spatial resolution.
"If you can do with MRI what you can do with PET, you've got a winner," he told AuntMinnie.com.
Alzeca's ADx technology involves a proprietary, targeted lipid-based nanoparticle bound to a ligand that is designed to cross the blood-brain barrier and bind to beta-amyloid plaques in the brain. This combination is in turn bound to a contrast particle based on a DOTA gadolinium chelate that Medici said is similar to commercially available macrocyclic contrast agents; the resulting agent can be detected with standard MRI scanners typically in use at 1.5-tesla and 3-tesla field strengths. A paper on the technology was published in the March 2016 edition of the Journal of Alzheimer's Disease.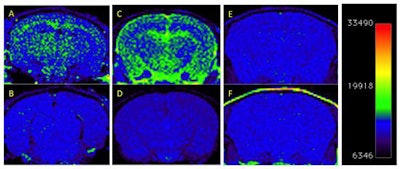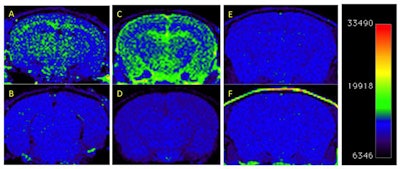 Medici has been working with Alzeca chairman Dr. Scott Atlas, formerly chief of neuroradiology at Stanford University and now with the Hoover Institution, on expanding the company's vision to include more disease targets, such as tau, alpha synuclein, or prions, enabling it to be used to diagnose Parkinson's disease, traumatic brain injury, and dementia with Lewy bodies. The firm has also added three new researchers to its science advisory board.
The firm is currently performing toxicity studies of ADx in animals, and it hopes to receive investigational new drug (IND) status from the U.S. Food and Drug Administration in June 2018, which will set the groundwork for starting research in humans in the third quarter of that year; the company is closely studying the regulatory path followed by the three PET agents on their way to market approval, he said.
Another advantage of the ADx technology is that it could be used as a therapeutic platform, carrying a drug rather than an imaging agent to the site of beta-amyloid plaques. This could potentially slow the accumulation of plaques and neurofibrillary tangles, which are associated with the development of Alzheimer's.
"This technology and this product could detect amyloid years before the onset of symptoms," Medici said.
The problem with early detection of Alzheimer's is that there are still no effective therapies for the disease. However, that doesn't mean that early detection isn't useful, he said.
For one thing, early diagnosis could help families handle life decisions differently if they know an Alzheimer's diagnosis is in their future. In addition, an effective diagnostic agent such as ADx could improve clinical trials for Alzheimer's therapeutic agents. Some 30% of patients enrolled in clinical trials for therapeutic Alzheimer's drugs end up not having the disease at all -- which can cloud the trial data.
On the business side, Alzeca is completing a bridge financing round to get the firm through the IND process. The company is also reaching out to strategic investors to raise $10 million to $15 million to get to phase I testing of the agent. After that, it's open to strategic alliances with pharmaceutical companies.
As Alzeca moves toward these goals, Medici is confident that progress will be made on an Alzheimer's therapy that will make the early diagnosis available with ADx a key component of patient management. For example, research has shown that some compounds have been effective in reducing beta amyloid -- with the findings confirmed by imaging.
"We believe that by the time this product is on the market, there will be a disease-modifying drug," he said.