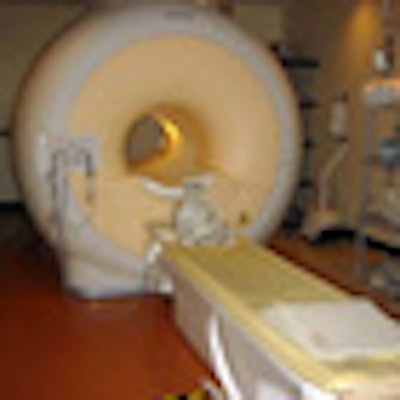 For Doug Kreis and the staff at Alpena Regional Medical Center in Michigan, contemplating a $1 million-plus MRI purchase has involved meticulous research and thoughtful consideration before committing to a substantial investment in equipment that would shape the 146-bed facility's short- and long-term goals for patient care.
As a business administrator who is Alpena's director of diagnostic imaging and oncology services, Kreis has spent the last few months analyzing whether to replace the facility's current 1.5-tesla MRI unit with a magnet of similar strength, or upgrade to a more expensive 3-tesla system with an eye toward imaging needs in the next decade.
As other radiologists, physicians, and executives in healthcare facilities and imaging centers large and small have found, a multitude of issues weigh on that final decision.
Growing in leaps and bounds
Alpena has grown "in leaps and bounds over the past 10 years," Kreis said, in part, because of its geographically isolated location in northeast Michigan on the shores of Lake Huron, and the fact that the next-closest MRI system is 65 miles away. The facility performs approximately 5,000 MRI exams annually with its one and only 1.5-tesla MRI unit. Of the more than 400 monthly MRI exams, only about 25 are done on an inpatient basis.
Approximately 80% of the 25,000 people Alpena serves are Medicare- or Medicaid-eligible, with the great majority being older patients who more than likely have implanted devices, which are not approved for 3-tesla MR imaging by the U.S. Food and Drug Administration.
"We do an average of 250 orthopedic implants per year at this facility," Kreis said. "Do I want to buy a 3-tesla magnet for $2 million in an area that is primarily elderly patients? It doesn't take very long to get up into a significant percentage of people who might not be able to access care with this new, very expensive purchase."
Cost versus benefit
Cost-benefit is "ultimately what everyone has to prove if they are going to get the chief financial officer to commit $2 million to buy a new MRI," said Tobias Gilk, president and MRI safety director at Mednovus and senior vice president at design and architecture firm Rad-Planning. "For bread-and-butter outpatient imaging types of centers, their primary concern is cost-benefit and making their quarterly and annual numbers."
Gilk estimated that a brand-new, high-end 1.5-tesla magnet carries a price in the range of $1.5 million, and "maybe even a little north of that," depending on the configuration and accessories. A 3-tesla MRI unit with similar amenities could run approximately $2.2 million to $2.3 million.
Imaging facilities also have to remember that the U.S. Centers for Medicare and Medicaid Services and private payors reimburse the same amount for an MRI exam regardless of the magnet strength, although fixed costs for a 3-tesla magnet are significantly higher.
That being the case, the decision to invest heavily in an MRI system must be based on more than patient care.
"That is a $1 million investment in marketing," Gilk said. "Imaging providers are saying 'Hey, the guys across town have a 1.5-tesla MRI. How do we differentiate ourselves? How do we offer something to this market that the other providers can't or don't?' "
Recruitment tool
Besides drawing more patients and referrals to its facility, a hospital can use a 3-tesla MRI system as a recruitment tool to lure neuroradiologists or orthopedists, who prefer to work with the greater magnet strength and more detailed MR images.
Still, 3-tesla MRI's strength also can be its shortfall. As Kreis mentioned, Gilk stressed the issue of safety regarding implanted devices and the lack of information on potential adverse effects of MRI's magnetic fields on a patient at 3 tesla compared with available data on 1.5 tesla.
"Chasing those issues down is the bane of every MRI technologist in existence, trying to identify what [the implanted device] is, who tested it, what test results were, is it safe to scan on our particular magnet?" Gilk added. "For a facility getting their first and only MRI magnet, the conventional wisdom is to go with a 1.5-tesla system."
University of Chicago Medicine (UCM) deals with implanted device issues on a daily basis. The 550-bed facility performs more than 18,000 MRI exams annually and has eight MRI systems (six 1.5-tesla units and two 3-tesla magnets) in operation, two of which are used for research.
"If something is safe at 1.5 tesla, it should not be automatically accepted that it is good at 3 tesla," said Dr. Aytekin Oto, a professor of radiology and director of body MRI imaging at UCM. "The safety issue has to be separately evaluated."
UCM also directs its pregnant patients to 1.5-tesla MRI. While there is currently no human data indicating any known hazards to the fetus, available research is limited, especially for magnet strengths greater than 1.5 tesla, Oto said.
"SAR [specific absorption rate] and noise can be the two issues, which are increased at 3 tesla compared to 1.5 tesla and may, at least potentially, adversely affect the fetus," he added. "In addition, there is no known obvious advantage of 3 tesla over 1.5 tesla for the MRI indications in pregnancy. Therefore, there is really no point in increasing the risk."
Next purchase
Oto and his colleagues recently analyzed the purchase options for their next MRI system, which will be installed at UCM's new hospital scheduled to open in February 2013. "It was not a very tough decision," he said. "We decided to go with the 3 tesla."
That decision was based, in part, on the design of new 3-tesla systems, which include larger bores for patient comfort, and to accommodate many of the same patients a 1.5-tesla unit can.
"Previously, there was a limitation with body and abdominal MRI," with 3-tesla MRI, Oto said. "There were lots of artifacts, but with the new technology, homogeneity is not a problem anymore. We can offer all kinds of MRI examinations with the same quality."
Hence, 3-tesla MRI exams are in "high demand" among all UCM physicians because of the enhanced image quality, Oto said. The bulk of the 3-tesla volume is neuroradiology cases, followed by musculoskeletal and body MRI.
For neuroradiology, 3-tesla MRI is used for spectroscopy, functional MRI, and angiography, while musculoskeletal specialists find that images of knees, shoulders, and other joints are much clearer at 3 tesla. Oto, who specializes in abdominal radiology, uses 3-tesla MRI for prostate, rectal cancer, cancer staging, and female pelvis/gynecology imaging applications.
Final decision
While UCM has more financial resources than imaging centers and smaller hospitals such as Alpena, Oto said the entity does "not have an infinite amount of resources," especially now that it is building a new hospital.
"One definitely has to make their own evaluation depending upon the financial situation, but the advantage of improving marketability, attracting more patients, and offering high-quality exams should be taken into consideration in making that evaluation," he concluded.
Back at Alpena Regional Medical Center, the final decision was to stay with a 1.5-tesla MRI system. The main factor that influenced the decision was the system's ability to serve as many patients as possible in the region. Advances in coil technology, Kreis said, also have enhanced image quality at 1.5-tesla MRI to make it a viable option.
"If we were a two-magnet department, we would be purchasing a 3-tesla [MRI]," he added. "Serving our patients is the hospital's top priority; the 3-tesla [MRI] is too much of a commitment for the population we serve. This is the right decision for us in the long run."