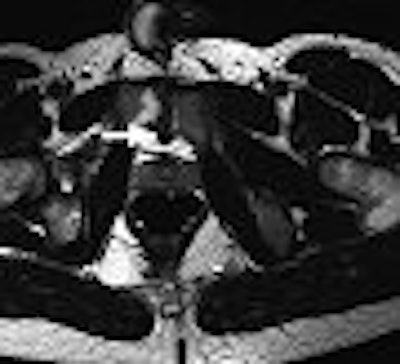 Connecting the trunk to the lower extremities, a healthy groin is a complex structure. So when chronic groin pain enters the picture, it poses a diagnostic dilemma: Could it be incipient hernia, tendinitis of the adductor, or nerve entrapment? Is surgical treatment necessary or will the pain resolve itself with a change in activity level? What should imaging experts look for when assessing chronic groin pain? Finally, should MRI be the go-to modality for investigating the source of groin pain?
Yes and no, according to two recent studies. Radiologists in Ireland determined that MR could reveal patterns of bone and soft-tissue injury in soccer players. On the other hand, a multidisciplinary group in Germany found that MR results did not correlate with outcome in athletes with chronic groin pain.
Symphysis pubis
Athletic pubalgia is a term applied to external groin pain, most often caused by adductor dysfunction, osteitis pubis, and prehernia complex, explained Dr. Patricia Cunningham and colleagues in the American Journal of Roentgenology. With their study, they wanted to determine if adductor dysfunction and the prevalence of osteitis pubis were linked, predisposing an athlete to one ailment or the other.
Cunningham's group is from the department of radiology at Cappagh National Orthopaedic Hospital in Dublin. They enrolled 100 professional and amateur soccer players with debilitating groin pain centered on the symphysis pubis. The pain had been present for a mean time of three months and sportsman's hernia had been ruled by clinical exam. The control group consisted of 100 asymptomatic athletes.
"The symphysis pubis has uniquely evolved to dissipate the cushion the impaction forces imposed on the pelvis during gait," the authors wrote. "For sports in which players twist, turn, and kick, the applied forces are magnified, thus resulting in severe biomechanical strain on the symphysis and its associated support structures" (AJR, March 2007, Vol. 188:3, pp. W291-W296).
Imaging was done on a 1.5-tesla scanner (Intera, Philips Medical Systems, Andover, MA) and the protocol included a turbo spin-echo T1-weighted sequence, a turbo STIR sequence, and a turbo spin-echo T2-weighted sequence.
Two musculoskeletal radiologists reviewed the images independently and came to a consensus over any discrepancies. The secondary cleft sign on MR was considered indicative of an adductor microtear at the symphyseal enthesis. If paraarticular bone edema was seen remote from the adductor attachment, osteitis pubis was noted.
A 32-year-old male soccer player from study group with right groin pain. Coronal inversion-recovery turbo spin-echo image (above) and axial T1-weighted turbo spin-echo image (below) show right-sided secondary cleft at site of adductor microtear without osteitis pubis. Axial image (below) shows posterior herniation of symphyseal fibrocartilage (arrow).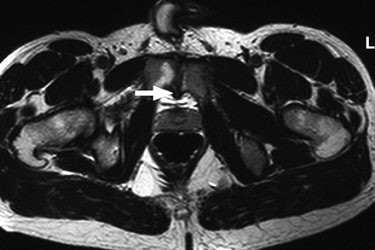 Cunningham PM, Brennan D, O'Connell M, MacMahon P, O'Neill P, Eustace S, "Patterns of Bone and Soft-Tissue Injury at the Symphysis Pubis in Soccer Players: Observations at MRI" (AJR 2007; 188:W291-W296).
According to the results, groin pain was secondary to inflammatory change at the symphysis pubis in 97 cases and isolated adductor microtears, without osteitis pubis, were identified in 48.4% of the patients. About 43% had adductor microtears and osteitis pubis. In 53.8% of the patients, there was focal edema in the pubic tubercle at the site of the microtear. In 88 patients, the authors identified an accessory cleft correlating with the symptomatic side.
None of the 100 control subjects showed evidence of bone edema at the symphysis pubis or an accessory cleft secondary to adductor dysfunction.
The authors concluded that "exertional groin pain in the pubalgia results from injury to the symphysis pubis and its supporting structures.... The fact that groin pain is frequently due to soft-tissue derangement, an adductor microtear, or a sportsman's hernia accounts for normal findings on radiographs and bone scans ... and further increases the requirement for MRI in this population."
They advocated that MRI should be performed in all patients with pubalgia to differentiate between adductor tears and osteitis pubis.
Special indications
In the second study, Dr. Adrien Daigeler and colleagues examined 19 athletes with exercise-triggered groin pain with MR during a training-free period and directly after training. The majority of the participants (42%) were triathletes, followed by soccer players (26%). Symptoms had existed for a mean of 18.8 months.
Daigeler is from the department of surgery at St. Josef Hospital, Ruhr University Bochum in Bochum, Germany. Co-authors included Drs. Werner Pennekamp and Odo Köster from the university's department of diagnostic and interventional radiology and nuclear medicine.
The first MR exam was done during a 24-hour period when the athletes did not train. They then returned to training until the groin pain reappeared. The athletes were imaged again on a 1.5-tesla scanner (Magnetom Symphony, Siemens Medical Solutions, Erlangen, Germany) a maximum of 12 hours after pain onset. Sequences included axial, sagittal, and coronal T1- and T2-weighted imaging while the patient carried out a Valsalva maneuver. Clinical follow-up was done four years later.
"Musculotendinous structures of the groin and the lower abdomen were assessed with special respect to edema and focal protrusion of the abdomen wall (bulging)," the authors wrote (Journal of Sports Science and Medicine, March 2007, Vol. 6:1, pp. 71-76).
According to the results, the Valsalva maneuver provoked a visible bulge in seven patients, which was interpreted on MR as a posterior abdominal wall deficiency. In eight cases, T2-weighted STIR MR scans revealed edema in the symphysis. Three patients had adductor insertion site tenderness on physical exam, but edema was seen on MR in only one case. Overall, the 39 MRI results in 19 patients did not differ before and after physical exam, the authors stated.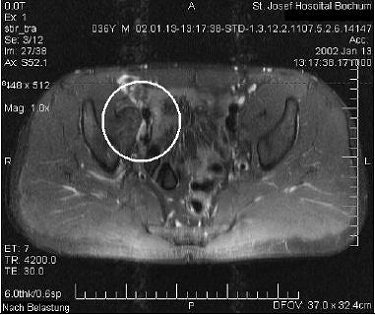 Positive bulging provoked by Valsalva maneuver; axial plane (dynamic MRI). Reprinted from Journal of Sports Science and Medicine, Vol. 6, Daigeler A, Belyaev O, Pennekamp WH, Morrosch S, Köster O, Uhl W, Weyhe D, "MRI findings do not correlate with outcome in athletes with chronic groin pain," 71-76, 2007, with permission from the Journal of Sports Science and Medicine.
"Thus, a repeated examination during the training period added no information to the MRI findings detected during the training-free interval," they wrote. "The pathologic findings on MRI varied neither in quality nor in quantity comparing the two different time points of evaluation, suggesting that exercise-triggered pain does not have a temporary correlate, which can be visualized by MRI."
With regard to treatment and the four-year follow-up, MRI-detected findings were treated with unilateral totally extraperitoneal hernia repair in four cases. In most of the remaining cases, the patient experienced the alleviation of groin pain because he reduced training or quit the sport.
As a result, the authors concluded that most MR findings did not significantly change the treatment algorithm and should be reserved for "special indications," such chronic pain in nonathletes who are less likely to suffer from overuse injury.
By Shalmali Pal
AuntMinnie.com staff writer
April 27, 2007
Top image: A yoga pose known as parighasana or "gate pose," intended to stretch the groin and hamstrings while stimulating the abdominal organs and lungs.
Related Reading
MRI suggests which athletes will be limited by groin pain, July 1, 2005
Proper positioning for the pelvis and proximal femur, August 8, 2003
In hockey, frustration is often spelled G-R-O-I-N, February 11, 2002
Copyright © 2007 AuntMinnie.com