FAPI-PET imaging may become a powerful diagnostic tool for detecting pancreatic cancer, according to a study published November 16 in the Journal of Nuclear Medicine.
A group led by Lukas Kessler, MD, of University Hospital Essen in Germany, assessed the accuracy of gallium-68 (Ga-68) FAPI-PET in patients with pancreatic cancer enrolled in an ongoing study. They found high detection rates and diagnostic accuracy, as well as superior performance to standard imaging.
"This is the first observational prospective trial providing a detailed head-to-head comparison of 68Ga-FAPI PET/CT with F-18 FDG PET/CT and [contrast-enhanced]-CT, the standard-of-care imaging method," the group wrote.
Fibroblast activation protein (FAP) is overexpressed by fibroblast cells in various cancers. In 2018, experimental FAP inhibitors (ligands that attach to the FAP protein) were introduced and have proven to be highly accurate as PET imaging agents when combined with various radioisotopes.
Since 2020, Kessler and colleagues have been conducting an ongoing prospective trial investigating Ga-68 FAPI-PET/CT or PET/MRI and its impact on clinical management for staging or restaging various cancer tumors as part of clinical care.
In this study, the researchers analyzed data on 62 patients with suspected pancreatic cancer. In addition to Ga-68 FAPI-PET imaging, all patients also underwent contrast-enhanced CT, and 38 underwent F-18 FDG-PET. The primary endpoint was the association between Ga-FAPI-PET radiotracer maximum standardized uptake value (SUVmax) and histopathologic FAP expression, while secondary endpoints included comparisons to standard imaging.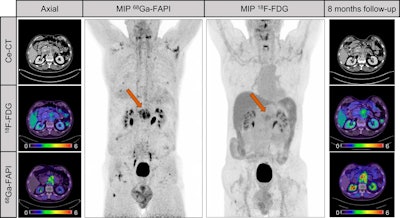 The primary endpoint was met, according to the findings. The association between Ga-68 FAPI SUVmax in pancreatic tumors and histopathologic FAP expression determined in lab tests was significant, with a Spearman correlation coefficient of 0.48 (p = 0.04).
In addition, in a head-to-head comparison versus F-18 FDG-PET or contrast-enhanced CT, 346 lesions were detected by any modality, with the highest detection by Ga-68 FAPI-PET/CT.
Cancer lesions detected by standard imaging versus Ga-68 FAPI-PET (n = 346)
Contrast-enhanced CT
F-18 FDG-PET
Ga-68 FAPI-PET
Lesions detected
183
161
293
Moreover, a postimaging file review revealed that Ga-68 FAPI-PET/CT imaging after standard imaging resulted in changes in management of five patients: the treatment plan changed from active surveillance to chemotherapy (major change) for one patient, planned biopsies were canceled and chemotherapy was initiated (major change) for two patients, and another two patients were changed to different systemic treatments.
"Ga-68 FAPI-PET is a valuable diagnostic tool in patients with pancreatic cancer and provided accuracy and the highest lesion detection rate compared with standard imaging modalities," the researchers concluded.
A link to the full study can be found here.