A group in China has developed a PET radiotracer that visualizes tumors with KRAS mutations in patients with lung and colon cancer, according to a study published October 12 in the Journal of Nuclear Medicine.
Ultimately, the tracer could have a significant clinical impact, given that there are limited options other than invasive biopsies for screening these patients, noted first author Xiang Li, of the Fourth Military Medical University in Xi'An, and colleagues.
"The results of this study seem to indicate that F-18 PFPMD-PET is a new molecular imaging tool of significant clinical relevance," the group wrote.
For 40 years, KRAS-G12C genetic mutations in patients with lung and colon cancer were recognized as "undruggable," the authors noted, until 2021 when the U.S. Food and Drug Administration approved the first KRAS inhibitor for these patients, called sotorasib (Lumakras, Amgen). The drug binds to KRAS proteins in tumors and prevents them from triggering tumor growth.
A PET tracer that visualizes KRAS tumors in patients could thus also help clinicians assess the effects of this new treatment, they added.
To that end, the researchers employed a common approach for developing PET tracers; namely, they chemically modified the existing structure of sotorasib and combined it with an imaging radioisotope (F-18). The resulting tracer thus binds similarly to KRAS proteins as the drug.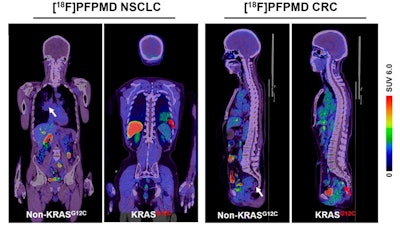 In this study, the researchers tested the tracer in mice, and then for the first time in humans. They enrolled eight patients with lung cancer and six with colon cancer with KRAS mutations. Patients were injected with the tracer and then underwent hybrid PET/CT imaging.
According to the findings, F-18 PFPMD-PET showed varied uptake in KRAS mutation tumors, and the SUVmax (uptake of the tracer by tumors) was significantly higher than in non-KRAS mutation tumors.
In addition, the tracer uptake increase was generally consistent between the patients (+56.1%) and animal (+59.1%) studies, indicating that F-18 PFPMD is highly selective toward the targeted KRAS mutation, they wrote.
"To the best of our knowledge, this was the first-in-humans study of noninvasive imaging of the KRAS mutation using a molecularly specific imaging tracer," the group wrote.
Future studies may investigate the performance of F-18 PFPMD-PET in screening of patients with KRAS mutations, monitoring of sotorasib therapeutic response, and determining potential drug resistance, the researchers concluded.
A link to the full article can be found here.