PET/MRI scans are more accurate for diagnosing cardiac sarcoidosis than established imaging approaches, as well as effective in reducing patient radiation and imaging times, according to a team at the University of Toronto in Ontario, Canada.
In a study of 40 patients, researchers led by Constantin Marschner, MD, found that hybrid PET/MRI performed better than cardiac MRI, F-18 FDG-PET/CT, and SPECT perfusion imaging alone.
"Imaging is frequently relied on for assessment of cardiac disease, although there is no consensus on the optimal imaging approach for patients with suspected [cardiac sarcoidosis]," the group wrote, in a study published September 28 in Radiology: Cardiothoracic Imaging.
Sarcoidosis is a systemic disease caused by the formation of granulomas that can involve multiple organs, including the heart. In the absence of treatment, cardiac sarcoidosis can lead to irreversible fibrosis, arrhythmias, ventricular dysfunction, and sudden cardiac death, the authors explained.
With imaging playing a key role in the noninvasive evaluation of suspected disease, the authors aimed to determine the most effective approach between PET/MRI and standard-of-care approaches.
The group recruited 40 consecutive patients (mean age, 54) at their hospital with suspected cardiac sarcoidosis undergoing clinical evaluation between November 2017 and May 2021. Patients underwent different imaging approaches on the same day. Fourteen patients (35%) had a final diagnosis of cardiac sarcoidosis.''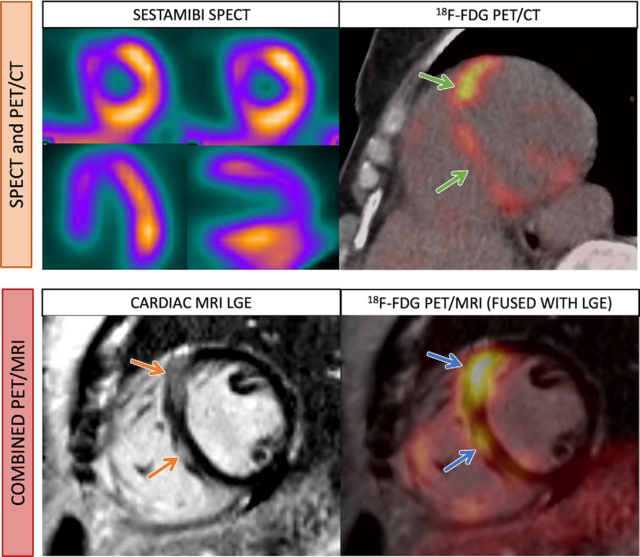 Images in a 52-year-old woman with cardiac sarcoidosis. Standard-of-care imaging (top row) demonstrates a perfusion defect on SPECT images (top left) and corresponding FDG radiotracer uptake on PET/CT image (top right) at the interventricular septum (green arrows). On combined F-18 FDG-PET/MRI (bottom row), there is nodular late gadolinium enhancement (LGE) at the interventricular septum (orange arrows) with corresponding FDG uptake (blue arrows). Image courtesy of Radiology: Cardiothoracic Imaging.

Compared with separate cardiac MRI, PET/CT, and SPECT perfusion imaging, combined cardiac PET/MRI had 52% lower total radiation dose (8 mSv vs. 16.8 mSv) and 43% lower total imaging duration (122 minutes vs. 214 minutes), according to the findings.
In addition, combined PET/MRI had the highest area under the curve for diagnosing cardiac sarcoidosis (0.84), with a specificity of 96% and a sensitivity of 71%, the authors wrote.
"In the evaluation of suspected [cardiac sarcoidosis], combined cardiac F-18 FDG-PET/MRI had a lower radiation dose, shorter imaging duration, and higher diagnostic performance compared with standard-of-care imaging," the group wrote.
Ultimately, previous studies in other diseases have shown PET/MRI to be superior to standard approaches alone, as the technology combines the functional information seen on PET scans with the anatomical features seen on MRI.
"To our knowledge, there are no prior reports comparing radiation exposure and imaging duration for combined PET/MRI versus standard-of-care evaluation with separate imaging tests in [cardiac sarcoidosis]," they wrote.
Nonetheless, as in previous studies, the authors also noted that the cost of hybrid PET/MRI remains one of the biggest hurdles to implementing the approach in clinical practice.
"Further research is needed to evaluate the cost-effectiveness of this approach while taking into consideration the cost of PET/MRI systems and competing demands with oncologic indications," the group concluded.
The full article is available here.