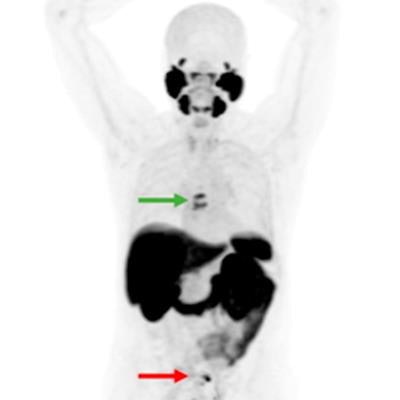 PET/CT imaging with F-18 PSMA-1007 detects significantly more prostate cancer than imaging using the standard F-18 fluorocholine (FCH) radiotracer, according to clinical results published in the April issue of the Journal of Nuclear Medicine.
A group in France also found that using F-18 PSMA-1007 resulted in therapy changes that were more beneficial for patients than when F-18 FCH was used, wrote a team led by Dr. Pierre Olivier of the University of Lorraine in Nancy (JNM, April 2023, Vol. 64:4, pp. 579-585).
"F-18 PSMA-1007 PET/CT is superior to F-18 fluorocholine PET/CT for the localization of prostate cancer recurrence," the researchers wrote.
Approximately 473,000 new diagnoses of prostate cancer were diagnosed in 2020 in Europe and more than 108,000 deaths occurred due to the disease. Although long-term outcomes are good for most men, recurrence after treatment is common, and PET imaging radiotracers playing a key role in monitoring patients, the authors explained.
Prostate-specific membrane antigen (PSMA) is a protein found on the surface of prostate cancer cells. PSMA molecules have been developed that bind to the protein, and when combined with isotopes such as gallium-68 (Ga-68) or F-18, the radiotracers allow researchers to locate these tumors on PET imaging.
F-18 PSMA-1007 (ABX Advanced Biochemical Compounds, Radeburg, Germany) was developed in 2016 by researchers in Heidelberg, Germany, and has shown high detection rates at low prostate-specific antigen (PSA) levels in biochemically recurrent cancer in previous studies. In this phase III study, the primary aim was to compare F-18 PSMA-1007 PET/CT and F-18 FCH-PET/CT, which has been recommended for PET/CT imaging of prostate cancer recurrence since marketing authorization was granted in France in 2010. Secondary outcomes included changes in physicians' diagnostic thinking and therapeutic decisions.
The study enrolled 200 patients who had undergone prostate cancer treatment but were suspected to have recurrence between March 2019 to October 2020, with 189 completing all follow-up assessments over six months. All men underwent both F-18 PSMA-1007 and F-18 FCH-PET/CT scans and three nuclear medicine specialists assessed all images using a three-point scale (no recurrence, undetermined, or recurrence).
According to the analysis, the overall proportion of patients with correct detection rates for prostate cancer lesions with F-18 PSMA-1007 was 82% compared with 65% for F-18 FCH-PET. When the readers considered initially undetermined results as positive for malignancy, F-18 PSMA-1007 PET/CT helped identify 77% of cases compared with 57% for F-18 FCH-PET/CT, the group wrote.
In addition, the researchers analyzed changes in radiologists' diagnostic thinking after both PET/CT examinations and at the end of the study's follow-up period; treatment plans before and after PET/CT examinations were available in 187 patients. In total, changes in diagnostic thinking due to PET/CT were reported in 149 patients, or 80%.
In these 149 men, F-18 PSMA-1007 allowed earlier targeted salvage treatment in 93 (62%) patients, compared with both tracers contributing equally to treatment changes in 49 patients (33%), and F-18 FCH contributed more in four patients (3%), the authors reported.
"Decision-making was more beneficial when based on F-18 PSMA-1007 PET/CT results," the group wrote.
The researchers wrote that, to their knowledge, this was the first study to compare F-18 PSMA-1007 and F-18 FCH for the localization of biochemical recurrence of prostate cancer.
They also noted that the results for F-18 PSMA-1007 agree with those reported for gallium-68 (Ga-68) PSMA-11, a radiotracer approved for the same use in prostate cancer patients in the U.S. in 2020. F-18-labeled radiotracers have a longer half-life than Ga-68-labeled tracers, which could allow them to ultimately reach more patients, they suggested.
"More accurate staging of recurrent prostate cancer might lead to more beneficial decision-making and patient management," the group concluded.
Disclosure: The study was funded and supported by ABX Advanced Biochemical Compounds.