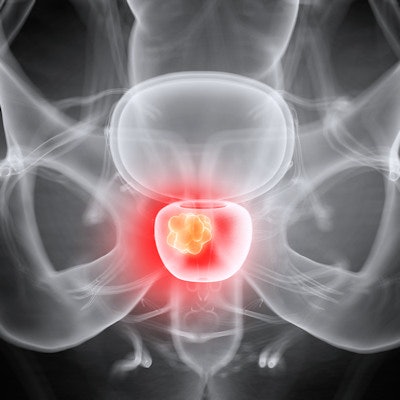 PET prostate scan volumes grew 46% year-over-year, showing an increase of 3 percentage points to produce 9% of the overall procedure mix by study type, according to the newly published IMV 2023 PET Market Summary Report.
After a 12.2% increase in overall PET scan volume in 2021, PET scan volume remained flat year over year in 2022. However, the change in volume of PET scans varied by site type, with hospitals with less than 400 beds having a 25% increase in scan volume, nonhospital sites seeing a 10.9% decrease, and hospitals with 400 or more beds remaining flat in 2022.
Looking ahead, 47% of PET imaging sites anticipate their scan volumes will increase over the next 12 months, 44% volumes to stay the same, and 1% anticipate a decrease.
Pertaining to radiopharmaceutical usage, 82% of PET scans used F-18 FDG, 7% used rubidium-82, and all other agents made up the remaining 11%.
In 2022, 30% of sites were considering the purchase of a PET scanner over the next three years, up 2 percentage points from 2021. The percentage of sites planning to have capital budgets for PET equipment in 2023 is expected to decrease 3 percentage points from 2022 levels, to 11% of sites, and then to remain flat in 2024.
Of planned system purchases in 2022, 92% will be equipped with a digital detector. The top OEMs being considered for future PET system purchases are Siemens Healthineers with 64% of mentions, GE HealthCare with 54%, Philips with 8%, Canon Medical Systems with 4%, and United Imaging with 2%.
Regarding patient wait times for nonemergency outpatient PET scans, the overall median wait time is six days, with 29% of sites having a median wait time of less than three days. Independent PET sites have the shortest median wait time of three days, and hospitals with 400 or more beds, hospitals with less than 200 beds, and hospital-owned PET centers have the longest, with a median wait time of seven days.
Want to share your knowledge of medical imaging? Sign up for the IMV Survey panel today.
Davin Korstjens is a senior market research program manager at IMV Medical Information Division, part of Science and Medicine Group.
IMV's 2023 PET Market Summary Report explores market trends in U.S. hospitals and imaging centers, including procedure volume, manufacture-installed base features and share, the use of OEM vs. third-party service providers, purchase plans, brand loyalty, radiopharmaceutical usage, and site operations characteristics. The report was published in March 2023 and is based on responses from 386 radiology/departmental administrators and clinicians who participated in IMV's nationwide survey from August 2021-September 2022. Vendors covered in this report include Bracco, Canon, Cardinal Health, GEHC, Jubilant, Philips, Siemens, and SOFIE.
For information about purchasing IMV Market Outlook Reports, visit the corporate website at imvinfo.com or call 703-778-3080 ext. 1033 to speak with a representative. In addition to the report, all purchases will include a complimentary recording of an executive summary presentation of findings conducted by IMV's Senior Program Manager.
Disclosure: IMV Medical Information Division is a sister company of AuntMinnie.com.