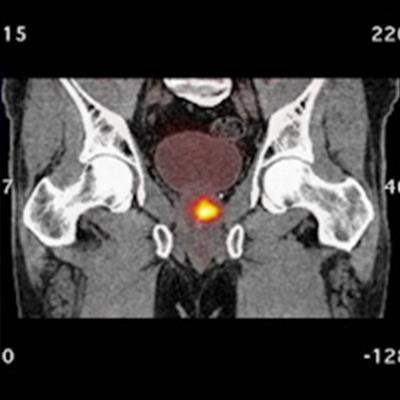 PET imaging with prostate-specific antigen (PSMA) radiotracers can help surgeons spare nerves in patients undergoing radical prostatectomy, according to a study published November 1 in Urologic Oncology.
A team at Indiana University in Indianapolis measured the accuracy of two PSMA tracers for locating the spread of cancer from the prostate to nerve bundles and compared PET accuracy to standard-of-care predictors, including MRI and biopsy results.
"PSMA-targeted PET can benefit prostate cancer patients, and surgeons, by better defining cases in which nerve- and muscle-sparing surgery may be appropriate," wrote corresponding author Dr. Clinton Bahler, and colleagues.
Incontinence and impotence occur following radical prostatectomy due to injury to nerves and the sphincter muscle. Preserving these nerves and muscles adjacent to prostate cancer where the disease may have spread is a major challenge during surgery, according to the authors.
In this study, the authors aimed to measure the accuracy of two PSMA-PET tracers for assessing this so-called "extraprostatic extension" (EPE) at nerve bundles.
The researchers retrospectively studied the imaging of 71 patients who underwent PSMA-PET scans prior to robotic prostatectomy. Two PSMA-PET tracers were used: gallium-68 (Ga-68) PSMA-11 (n = 46) and Ga-68 P16-093 (n = 25). The Ga-68 P16-093 tracer has up to three times less excretion in urine compared to Ga-68 PSMA-11, which is a potential advantage for pelvic imaging, the authors noted.
According to the findings, 24 patients (34%) had EPE at nerve bundles near the prostate and 16 (23%) had prostate cancer invasion of seminal vesicles. The sensitivity, specificity, and area under the receiver operating characteristic curve (AUC) for identifying EPE were similar between the two tracers, according to the findings.
Performance of two radiotracers for localizing extraprostatic extension
Ga-68 PSMA-11
Ga-68 P16-093
Sensitivity
92%
87%
Specificity
76%
77%
Area under the curve
0.84
0.82
In comparison, MRI (available in only 45 patients) showed a high specificity (83%), but low sensitivity (60%) for EPE when using a published grading system. MRI sensitivity was significantly lower than the PSMA-PET (60% vs. 90%), the researchers found.
"A treatment change to 'nerve sparing' was recommended in 21 of 71 (30%) patients based on PSMA-PET imaging," the authors wrote.
The researchers noted that this was a pilot study, and currently there are no PSMA-PET agents approved by the U.S. Food and Drug Administration for EPE prediction. The approach needs to be further developed to achieve greater utility in surgery and to limit variability between sites, they wrote.
"We are currently examining more sophisticated approaches to PET edge definition," Bahler and colleagues concluded.