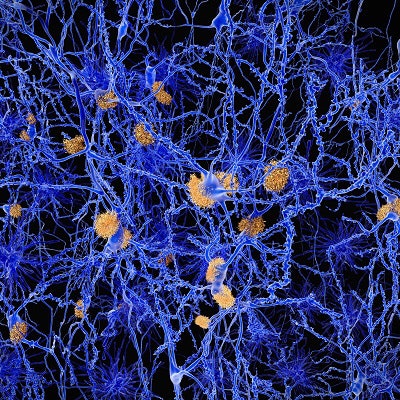 There appears to be little doubt about the efficacy of PET scans with an amyloid radiopharmaceutical to confirm a diagnosis of Alzheimer's disease. New research findings could influence how Alzheimer's patients are treated as soon as 90 days after imaging, according to a study published April 2 in the Journal of the American Medical Association.
Researchers found that amyloid PET changed diagnoses to or from Alzheimer's for 35% of patients and consequently changed their clinical management in more than 60% of cases (JAMA, April 2, 2019).
"This was a uniquely real-world study that looked at the impact of amyloid PET imaging in community clinics and other nonacademic settings, and demonstrates for the first time how much impact this technology has in real-world dementia care," noted lead author and principal investigator Dr. Gil Rabinovici, distinguished professor of neurology at the University of California, San Francisco (UCSF) Memory and Aging Center, in a statement. "We are impressed by the magnitude of these results, which make it clear that amyloid PET imaging can have a major impact on how we diagnose and care for patients with Alzheimer's disease and other forms of cognitive decline."
Hallmark of Alzheimer's
The accumulation of amyloid protein plaques and tau protein tangles in the brain is the hallmark of Alzheimer's disease. Until recently, amyloid plaques could be detected only after death through an autopsy of brain tissue.
Now, three beta-amyloid PET tracers have been approved for clinical use by the U.S. Food and Drug Administration (FDA) for the diagnosis of Alzheimer's disease:
Florbetapir (Amyvid, Avid Radiopharmaceuticals)
Florbetaben (Neuraceq, Life Molecular Imaging)
Flutemetamol (Vizamyl, GE Healthcare)
Still, not everyone is convinced of amyloid PET's value. The four-year Evidence for Amyloid Scanning (IDEAS) study began in February 2016 as a result of the decision by the U.S. Centers for Medicare and Medicaid Services (CMS) in January 2013 not to reimburse for beta-amyloid PET imaging.
At the time, CMS ruled that more studies were needed to confirm the efficacy of Avid's Amyvid radiopharmaceutical. The agency, however, has reimbursed 343 facilities for performing amyloid PET scans in the IDEAS trial under its coverage with evidence development policy.
Since its inception, IDEAS has recruited 946 dementia specialists at 595 sites in the U.S. and enrolled 16,008 Medicare beneficiaries with mild cognitive impairment or dementia with unconfirmed causes. Patients were followed through January 2018, with dementia specialists documenting diagnoses and management plans before amyloid PET scans and again 90 days (± 30 days) after imaging. The primary end point for analysis was any change in patient management before and after the exams, as well as how initial diagnoses may have changed.
Amyloid PET results
This phase of the IDEAS trial included 11,409 patients. Before amyloid PET scans, Alzheimer's disease was the leading suspected cause of cognitive impairment in 8,785 (77%) subjects. Baseline PET scans then revealed 6,905 subjects (median age, 75 years) with mild cognitive impairment and 4,504 participants (median age, 77 years) with dementia.
Among the subjects with PET scans positive for amyloid accumulation, 3,817 people (55%) were confirmed to have mild cognitive impairment and 3,154 (70%) had dementia. Nine PET scans could not be interpreted.
As a result, 2,860 patients (25%) had their diagnosis changed from Alzheimer's disease to non-Alzheimer's, while 1,201 (11%) patients went from not having the disease to a confirmed case of the condition. When there were positive amyloid PET results, Alzheimer's diagnoses increased from 80% before imaging to 95% after the scans. For patients with a negative scan, the rate of Alzheimer's diagnoses decreased from 71% before PET to 10% after imaging.
"In this study, amyloid PET results were negative in a significant minority of patients with a pre-PET diagnosis of Alzheimer's disease, and conversely most patients with negative scan results had a pre-PET diagnosis of Alzheimer's disease," the researchers noted. "This diagnosis [of Alzheimer's] and subsequent treatment [for the disease] may have persisted if these patients had no access to amyloid PET."
Treatment options
The most common change in management involved Alzheimer's drugs. Among the 6,905 patients with mild cognitive impairment at baseline, 3,014 people (44%) were changed to a drug regimen based on PET results, while 2,022 (45%) of the 4,504 with dementia at baseline were later switched to drug treatment.
In addition, the overall use of Alzheimer's disease drugs among patients with positive PET results doubled from 40% to 82% among patients with mild cognitive impairment and from 63% to 91% for patients with dementia. Both increases were statistically significant (p < 0.001). On the other hand, physicians discontinued the use of Alzheimer's drugs among patients whose scans revealed little amyloid deposition.
"Change in the use of Alzheimer's disease drugs after PET was linked to amyloid status, although in some instances clinicians elected to continue the use of Alzheimer's disease drugs in patients with a negative scan result, perhaps reflecting the favorable safety profile of these medications, as well as the lack of alternative therapies for other disorders," the authors added.
"Accurate diagnoses are critical to ensure patients are receiving the most appropriate treatments. In particular, Alzheimer's medications can worsen cognitive decline in people with other brain diseases," Rabinovici said. "But perhaps more fundamentally, people who come into the clinic with concerns about memory problems want answers. An early, definitive diagnosis may allow individuals to be part of planning for the next phase of their lives and to make decisions that otherwise would eventually need to be made by others."
Ongoing IDEAS
The researchers are currently analyzing data from the second phase of the IDEAS trial, which will show how amyloid PET exams affect health outcomes following the scan. The researchers are also using CMS claims data to document hospitalization rates and emergency department visits for IDEAS participants, comparing them with participants with similar neurologic problems who did not undergo amyloid PET. The team plans to publish its findings in 2020.
A study called New IDEAS also is in the works, and it will include more people with typical and atypical clinical presentations of Alzheimer's, as well as recruit a study group that better reflects the racial and socioeconomic diversity of the national population.
The IDEAS trial is managed by the American College of Radiology (ACR) and led by researchers from UCSF; the Alzheimer's Association; Brown University School of Public Health in Providence, RI; Virginia Commonwealth University School of Public Health; Washington University School of Medicine in St. Louis; UC Davis School of Medicine in Sacramento, CA; and Kaiser Permanente.
In addition to CMS' reimbursement for amyloid PET scans, the IDEAS trial was funded by the ACR, the Alzheimer's Association, Avid Radiopharmaceuticals, GE Healthcare, and Life Molecular Imaging (formerly Piramal Imaging).