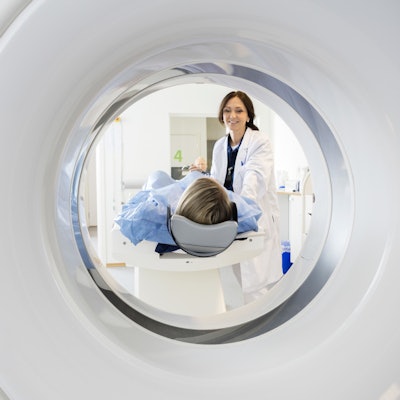 How can radiology departments streamline CT exam scheduling? There are two key strategies, according to a presentation on September 7 at the International Society of Computed Tomography (ISCT) meeting in San Diego.
Establishing efficient CT exam scheduling doesn't just improve a department's workflow, it also improves patient care, said presenter Daniel Glazer, MD, of Harvard Medical School in Boston.
"[Radiology is] shifting from only image interpretation to overall patient care management -- with a focus on quality, safety, efficiency, and patient satisfaction," he told session attendees. "The [old] system is fragmented and focused on physician needs, while a new [framework is focused] on information and centered on the patient."
When it comes to CT imaging workflow, the "ideal state," according to Glazer, is when a patient is scheduled for the correct exam at the correct site; CT system use is relatively equal across all the department's scanners; and any pre-procedure preparation such as labs, contrast, or steroid administration has been completed before imaging begins. "Waste" in this process consists of activities that don't add value, unplanned variations in a process or task, and overuse of staff, equipment, and systems, he said.
Glazer listed at least five common barriers to CT exam efficiency:
Patients present to sites that are unable to perform the exam.
The study is protocoled incorrectly.
The distribution of patients across the department is uneven.
Patient preparation is inadequate.
Coverage for contrast-enhanced studies is limited.
But he also suggested two strategies a department can use to improve scheduling workflow:
Analyze CT exam use. Determine the percentage of imaging slots that are filled in a day or week and separate outpatient exams from inpatient or emergency department imaging. "We also divide our analysis by prime time and overall," Glazer said.
Make use of the Lean principle. Developed by Toyota, this framework focuses on eliminating waste by standardizing work to minimize variations, improving the flow of all processes in a task, and collecting and analyzing data. "Assess the current state [of CT imaging] and measure the gap between current and ideal states using performance metrics," he said.
Why is an assessment of CT scheduling workflow important? It makes the whole department more efficient, Glazer noted.
"Measuring utilization allows for more even scheduling ... as well as more efficient allocation for staffing," he said. "[And it allows the department to] quickly identify underperforming resources and direct patients accordingly."