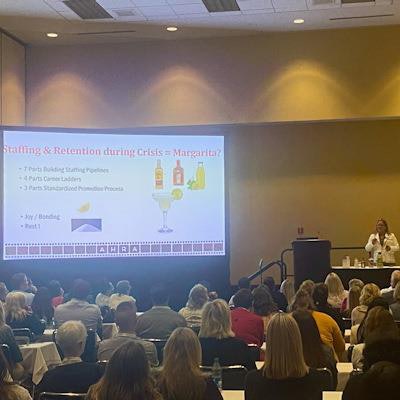 INDIANAPOLIS - Cross-training programs and new opportunities for technologists are vital ingredients for creating the perfect "margarita" for radiology staffing and retention, according to a presentation at AHRA 2023.
Using a margarita as a metaphor during her talk, Angelic Bush, administrative director of imaging services at the University of Texas Medical Branch, shared her team's experience from implementing training programs, adding new technologist positions, and creating a promotion review system to keep current radiologic technologist staff and recruit new staff members during and after the COVID-19 pandemic.
"When I think of staffing, [COVID-19] is like a fart that does not go away," Bush said. "It's over, but then we have supply chain issues, then we have staffing issues, and then we have high leave pay. It just lingers, and it's exhausting."
The pandemic at its peak in spring 2020 in the U.S. caused disruptions in healthcare, radiology included. This meant screening services and elective surgeries were delayed as healthcare staff were shifted to work the front lines while testing people and hospitalizing patients for COVID-19.
When health centers reopened, healthcare administrators still had to deal with the aftereffects of the shutdown. This included rescheduling patients while still putting COVID-19 at the top of their priority list when taking care of patients.
Bush showed results from a U.K. National Health Service survey that reported worse staffing levels, as well as exhaustion and the feeling of being overwhelmed by current staff. Stress is a top reason why health workers are leaving their jobs.
To deal with these challenges, Bush and colleagues at the branch, which includes five health campuses all within a 50-mile radius, implemented staff training programs and a promotion review process to fast-track employees into the field. These ingredients create what Bush called the perfect margarita of staffing and retention success. At the presentation, she had actual margarita ingredients such as tequila and Cointreau and poured them into a pitcher while explaining the "ingredients" to their success.
"We have to be very creative to have people stay in our [health] system," Bush said.
Staffing pipeline (tequila)
Bush said that prior to the team's staff training program, having radiologic technologists cover urgent care and ambulatory imaging needs was costly and led to frustration among the technologists.
So, the team contacted local schools to come up with a six-month training program that would leapfrog licensed medical assistants to limited medical radiologic technologist certification. After completing the program, graduates had a two-year commitment to the branch. The team reported that the program lowered costs to the health organization by over $100,000, as well as decreased salary-based labor costs.
Bush and colleagues are also implementing a cross-training program for MRI and CT starting in the fall of 2023. They cited increased imaging volumes and persistent staffing shortages in these areas as justification for the program's creation.
In this program, staff were removed from their current positions and were assigned a training schedule that did not extend past 90 days. Staff members will be paid their normal hourly rate during training. After completing the training, staff members will be offered the chance to select an open position based on current needs within the health system. They will also commit to flexibility for the branch to meet needs based on shift, location, day, or schedule for 12 months after training completion.
The team is using a cohort approach for trainees and will evaluate its approach after the first cohort graduates.
Bush said that the branch has the first accredited apprenticeship program for MRI technologist training in Texas by the U.S. Department of Labor.
Career ladders (Cointreau)
Prior to the pandemic, Bush said there were only two types of positions in this area: technologists and senior technologists.
However, this expanded after the pandemic. Bush said the branch created technologist I (assistance to residents) and II (film development, identification, etc.), as well as lead technologist and supervisor positions. However, she added that in the future, she anticipates a technologist III role will be necessary for remote radiologic work.
"Our technologists are going to have an extra load, because [work] will require extra skillsets to operate remotely," she said. "Those [remote] technologists are going to have to have multi-vendor knowledge and competencies."
Standardized promotion process (lime juice)
To vet staff members for potential promotion within the branch, Bush and colleagues implemented a standardized quarterly review process to evaluate employees. Bush said the standardized rate increases by around 7% between levels.
She also said that promotions are based on financial performance year-to-date. The human resources department automatically makes committee-approved changes, and ad hoc promotions are reviewed only on escalation.
Salting the rim
Bush shared initial results for staffing and retention after implementing these strategies. She highlighted that compared to the 79.9% overall staffing capacity reported for the 2022 fiscal year, May 2023 numbers showed an increase to 88.4%.
Areas that saw the biggest increases during these times were the Angleton Danbury campus (50.6% to 86.7%), on-campus clinics (66.2% to 88.5%), and the Victory Lakes campus (74.7% to 94.2%).
"It took two to three years to plant all the seeds, and now we're seeing the benefits," Bush said.