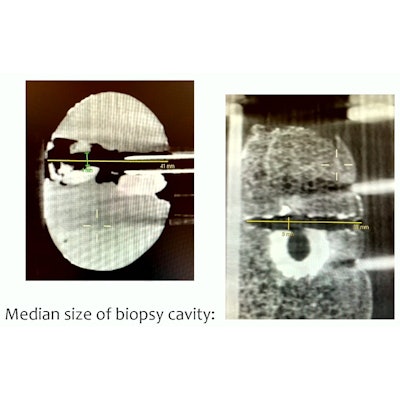 Contrast-enhanced conebeam CT (CBCT) imaging could serve as an alternative to MRI guidance when it comes to vacuum-assisted breast biopsy, suggest findings presented March 1 at ECR 2023.
In her discussion, Dr. Alma Hoxhaj from Radbound University Medical Center in the Netherlands presented her team's findings, which showed that CBCT that uses contrast agents have comparable success to MRI guidance but also fast intervention times.
CBCT is a relatively new breast imaging technique where a patient lies on their stomach and the breast is inserted into a hole. From there, the conebeam-shaped x-ray rotates around the breast for image acquisition. Research has shown that it is useful in diagnosing lesions and cancer staging, as well as therapy response monitoring. With an add-on device, it can also be used for CT-guided interventions.
However, studies that Hoxhaj and colleagues cited did not use contrast agents to enhance imaging. The researchers wanted to explore this concept for breast biopsy, looking at the feasibility, success rate, and intervention time of contrast-enhanced CBCT in phantom models.
They used four different phantoms in their analysis: chicken breast, bananas, kiwis, and breast. Iodinated olives were used to mimic suspected lesions. A nine-gauge, vacuum-assisted biopsy system was used for the test.
The team performed 10 vacuum-assisted biopsies in 10 phantom lesions and had a technical success rate of 100%. This surpassed the success rate seen in a 2023 study that examined MRI-guided breast biopsies, which had a range of 87% to 99%.
However, for their test of 12 targeting attempts, the researchers did two needle repositionings on the kiwi model since the distance to the target lesion was not within 5 mm. This results in an accuracy of 90%.
The researchers also found that the median identification and targeting time was 11.5 minutes. Also, the median tissue sampling time was 10.5 minutes, and the median total intervention time was 22.5 minutes, with the highest for the latter being 27.7 minutes. The intervention time was "substantially" quicker than a 2010 study by Malhaire et al, which had a median intervention time of about 72 minutes for MRI-guided breast biopsy.
Additionally, the median size of the biopsy cavity was 14.5 mm. This included a range of 12.5 mm to 17.5 mm.
"For these 'lesions,' when we performed the control scan that we usually do at the end of the procedure, the location of the biopsy cavity was at the side of the lesion itself," Hoxhaj said.
She added that while contrast-enhanced CBCT yields promise in this setting, studies in real patients are needed to confirm their results.