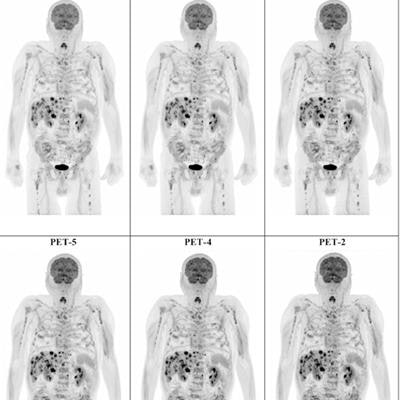 Whole-body PET/CT scans could reduce radiation dose and significantly trim imaging time in melanoma patients, according to a study published December 7 in the European Journal of Nuclear Medicine and Molecular Imaging.
A team led by Dr. Christos Sachpekidis at the German Cancer Research Center in Heidelberg, Germany, explored the capabilities of a new long axial field-of-view PET/CT scanner for imaging melanoma patients. Using a low dose of F-18 FDG radiotracer, the group reduced acquisition time almost by half, according to the study.
"Clinical introduction of ultra-extended field of view PET/CT scanners represents an evolution in molecular imaging with potentially major clinical and financial implications, while enabling, at the same time, a reduction of the associated radiation burden," the group wrote.
Recently, long axial field-of-view PET/CT systems, such as the Biograph Vision Quadra (Siemens Healthineers) used in this study and the uEXPLORER (United Imaging), have become available. Early experience shows these systems improve image quality, yet studies beyond research purposes are scarce, with initial clinical experiences just beginning to be reported.
In this study, Sachpekidis and colleagues aimed to determine an appropriate acquisition time for one of these new systems at their hospital in a group of melanoma patients after an F-18 FDG radiotracer injection of 2 MBq/kg rather than 3 MBq/kg as recommended by European guidelines.
The investigators enrolled 49 melanoma patients, all of whom underwent whole-body PET/CT from the top of the head through the feet. images of standard 10-minute acquisition times were reconstructed and further split into eight-minute, six-minute, five-minute, four-minute, and two-minute durations (PET-10, -8, -6, -5, -4, and -2). The researchers then compared the different reconstructed scan times.
A total of 42 PET-10 scans showing a total of 119 tumor lesions were evaluated. The results of the visual analysis showed that PET-8 scans revealed 116 tumor lesions, PET-6 revealed 113, PET-5 revealed 107, PET-4 revealed 99, and PET-2 revealed 88 of 199 tumor lesions.
"The results of the visual analysis of our study show that this increased sensitivity of the new scanner may allow for a reasonable decrease in acquisition time by five minutes (i.e., from 10- to 5-min), even when applying low dose examination protocols," the researchers reported.
In standard clinical practice, acquiring high-quality PET/CT images requires either increasing the radiotracer injection dose or prolonging the scan time, which carry radiation exposure and undesirable logistical consequences, according to the authors. Whole-body low-dose long axial field-of-view PET/CT imaging may help overcome these limitations, they wrote.
"This may have significant implications for the diagnostic work-up of patients with melanoma, given the need for true whole-body imaging in this type of cancer," Sachpekidis and colleagues concluded.