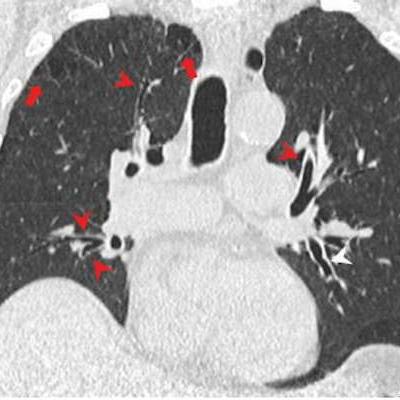 Airway inflammation and emphysema are more common in marijuana smokers than in nonsmokers and tobacco-only smokers, a Canadian study of CT scans over 15 years found. The results were published November 15 in Radiology.
Researchers led by Luke Murtha from Ottawa Hospital General Campus, however, also noted "variable" interobserver agreement and that cigarette smoking among people who also smoke marijuana limit their ability to draw strong conclusions.
"We were not able to establish a definite association between marijuana smoking and emphysema or bullous disease," Murtha and colleagues wrote. "Causality needs to be further examined in larger patient cohorts with prospective accurate quantification data."
Marijuana is widely used worldwide, but its legality in countries and states varies. A U.S. study reported that the percentage of all adults reporting marijuana use within the previous year rose from 6.7% in 2005 to 12.9% in 2015.
The researchers also noted a lack of data regarding lung imaging findings with marijuana use. Murtha et al wanted to add to the research base, looking at results from chest CT exams taken between 2005 and 2020. They included marijuana smokers, nonsmoker control patients, and tobacco-only smokers.
From there, the team compared rates of emphysema and airway changes, among other findings in these groups. The group also created age-matched subgroups for comparison with tobacco-only smokers older than 50 years.
Murtha and colleagues included a total of 146 people in their study. Out of these, 56 were marijuana smokers with an average age of 49 years, 57 were nonsmokers with an average age of 49 years, and the remaining 33 were tobacco-only smokers with an average age of 60 years.
The researchers found that overall emphysema rates in the marijuana group were higher than both nonsmoker and tobacco-only groups.
Rates of emphysema, airway inflammation among marijuana smokers, nonsmokers, and tobacco-only smokers
Finding
Nonsmokers
Tobacco-only
Marijuana smokers
Emphysema
5%
67%
75%
Bronchial thickening
11%
42%
64%
Bronchiectasis
4%
6%
23%
Mucoid impaction
2%
15%
46%
Gynecomastia
16%
11%
38%
*All data were statistically significant.
When it came to age-matched subgroup analysis, rates of bronchial thickening, bronchiectasis, and mucoid impaction were also higher in the marijuana smokers than in the tobacco-only smokers (p < 0.001 to p = 0.006).
Also, the researchers found that emphysema rates were higher in age-matched marijuana smokers (93%) than in tobacco-only smokers (67%). However, they found no significant differences in the rate of coronary artery calcification between age-matched marijuana smokers and tobacco-only smokers.
For interobserver agreement, the team reported variable agreement between two imaging readers upon assessment of different findings. These included fair agreement for bronchiectasis (k = 0.27), moderate agreement for bronchial wall thickening (k = 0.49), substantial for emphysema (k = 0.79), and strong for mucoid impaction (k = 0.84).
The study authors suggested that these findings may be linked to specific inhaling techniques while smoking marijuana. However, they called for larger, prospective studies to validate these results, noting that marijuana use is "bound to increase" with increasing legalization.
In an accompanying editorial, Dr. Jeffrey Galvin from the University of Maryland and Dr. Teri Franks from the Department of Defense Joint Pathology Center wrote that future studies "must" find a way to obtain a detailed history for how marijuana is inhaled, as well as the source, type, and strength of marijuana. They added that understanding the benefits and risks of marijuana smoking will need multiple disciplines to work together.
"Sophisticated imaging can provide both detailed microscopic anatomy and physiologic data that can form the basis of that understanding in the absence of lung tissue," they wrote.