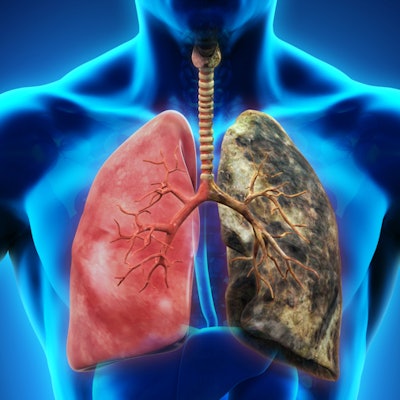 People who quit smoking after being diagnosed with early-stage non-small cell lung cancer (NSCLC) have slower disease progression and lower mortality rates, according to a study published July 26 in the Annals of Internal Medicine.
More than 80% of patients with NSCLC have a history of smoking, according to a statement released by the journal. But evidence as to whether quitting smoking improves their survival is lacking. To address this knowledge gap, a group of researchers led by Dr. Mahdi Sheikh of the World Health Organization's International Agency for Research on Cancer conducted a study that included 517 current smokers from two facilities in Moscow, Russia, who had been diagnosed with early-stage NSCLC. The team tracked study participants' medical and lifestyle history, tumor characteristics, and amount of lifetime smoking, following each for an average of seven years.
The group found that 44.5% of patients quit smoking. Those that did quit were more likely to live longer overall compared with those who did not (6.6 years vs. 4.8 years), live longer without lung cancer (5.7 years vs. 3.9 years), and have longer times to death from lung cancer (7.9 years vs. 6 years).
"These results show that even after being diagnosed with lung cancer, there is still significant benefit to quitting smoking," the Annals of Internal Medicine statement said. "Physicians should make their lung cancer patients aware that quitting smoking can extend life overall and extend life without cancer recurrence."