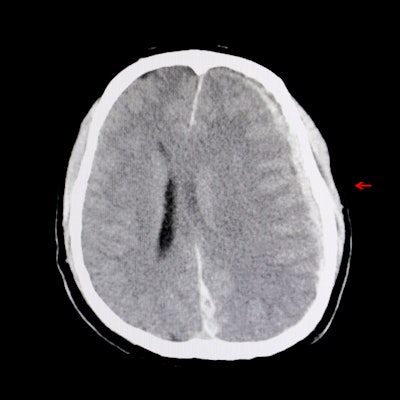 Certain abnormalities on head CT after mild traumatic brain injury (mTBI) may be predictive of long-term outcomes in patients, according to a study published July 19 in JAMA Neurology.
The findings highlight the need for tracking patients with mild TBI who have received head CT -- follow-up that happens less than one might expect, wrote a team led by Dr. Esther Yuh, PhD, of the University of California, San Francisco.
"Fewer than half of all patients with mTBI are evaluated at U.S. level 1 trauma centers, and only 39% of patients with mTBI and positive head CT findings, receive follow-up care, including such simple interventions as provision of TBI educational materials at time of discharge," the team wrote. "[Our study demonstrates] ... the existence of common CT patterns or phenotypes of intracranial injury in mTBI and show that these different phenotypes have varying implications for outcomes up to one-year postinjury."
Head CT can provide positive findings that indicate intracranial hemorrhage, and the modality is the primary way clinicians identify TBI. But since a CT exam can depict a wide range of abnormalities after head injury, assessing these abnormalities with more precision would be useful, the team noted.
"[Positive] head CT results include a wide spectrum of intracranial lesions," the group wrote. "A more precise understanding of CT abnormalities in mTBI, beyond the simple presence versus absence of abnormal findings on CT, is timely."
Yuh's group used data from a report called the Transforming Research and Clinical Knowledge in Traumatic Brain Injury (TRACK-TBI) study to investigate whether there are particular features on head CT in patients with mTBI and whether these features can predict long-term outcomes. The team's research included 1,935 TRACK-TBI patients diagnosed with head injury between February 2014 and August 2018 who underwent head CT within 24 hours of the injury; their recovery was assessed at two weeks and three, six, and 12 months after TBI.
The authors found that particular clusters of features on head CT were associated with poorer outcomes such as incomplete recovery and more severe impairment at one year post injury. These include the combination of contusion, subarachnoid hemorrhage, and subdural hematoma, or a combination of intraventricular and/or petechial hemorrhage.
Findings that indicate poor TBI outcomes on CT, by odds ratio
Incomplete recovery
CT finding
2 weeks post injury
3 months post injury
6 months post injury
12 months post injury
Contusion, subarachnoid hemorrhage, and/or subdural hematoma
2.22
1.87
1.67
1.8
Epidural hematoma
3.08
2.33
1.27
1.42
Intraventricular and/or petechial hemorrhage
2.23
1.16
1.19
1.48
More severe impairment
CT finding
2 weeks post injury
3 months post injury
6 months post injury
12 months post injury
Contusion, subarachnoid hemorrhage, and/or subdural hematoma
2.14
2.18
2.32
3.23
Epidural hematoma
1.23
0.37
0.37
0.31
Intraventricular and/or petechial hemorrhage
1.47
2.37
3.42
3.47
The hypothesis that different head CT features in patients with mild TBI may lead to different long-term outcomes invites more investigation -- and it has the potential to improve how patients are managed and tracked, according to the researchers.
"These more granular CT findings can immediately aid in the triage to TBI-specific education and systematic follow-up of the nearly five million patients with mTBI evaluated annually in U.S. emergency departments," they concluded.