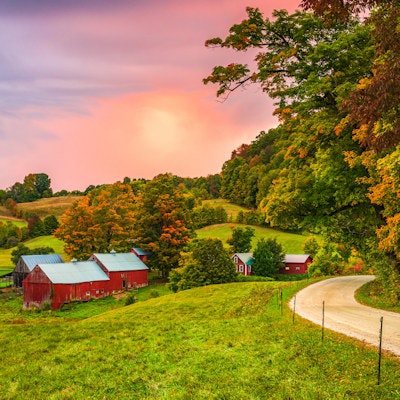 A hospital's geographic location can influence what kinds of services it offers, and low-dose CT (LDCT) for lung cancer screening may not be available to many living in rural areas, according to a study published June 15 in the Annals of the American Thoracic Society.
Understanding this is important, especially in light of the recent U.S. Preventive Services Task Force (USPSTF) lung cancer screening guidance update, which expanded the pool of eligible people by lowering the age that screening can begin to 50 and smoking history from 30 pack years to 20.
But not all small or rural hospitals even have an CT lung cancer screening program -- or if they do, they don't offer all the key components outlined by professional societies (such as lung nodule management algorithms, integrated smoking cessation resources, and patient and provider education), wrote a team led by Dr. Christopher Slatore of the Veterans Affairs Portland Health Care System in Oregon.
"Many rural hospital facilities in Oregon offer LDCT for lung cancer screening, but do not perform all the recommended components of a screening program," the group wrote. "Disparities in lung cancer screening utilization and adherence are unlikely to be solved by an exclusive focus at the radiology facility level and may require additional interventions at the primary care level."
Why offer screening?
Annual lung cancer screening with low-dose CT has been shown to reduce mortality from the disease. But its uptake can be affected by geography: One study found that 78% of rural people have to drive more than 30 minutes to a screening center, compared with 17% of urban dwellers.
More than a third of Oregon residents live in areas more than 10 miles from a population center of more than 40,000. Slatore's group investigated whether small and rural facilities in Oregon were offering CT lung cancer screening to their communities through a study that consisted of interviews with personnel from the radiology departments of 29 small and rural hospitals; these participants represented 19 facilities in 12 healthcare systems.
The study found that more than half of these small and rural facilities (59%) were performing LDCT lung cancer screening. The authors also found the following:
Of 19 facilities, 14 had a CT lung cancer screening program and five did not.
Many study participants stated that their facility's request form for low-dose CT scans included check boxes to determine whether the referring provider had verified the patient's eligibility for the exam and had conducted some sort of shared decision-making process with the patient.
Most indicated that follow-up for positive findings was considered the responsibility of the referring physician.
Facilities that were part of a multihospital network often had centralized features such as radiologist interpretation and American College of Radiology (ACR) registry data entry performed at a larger, often urban hospital, although patients underwent the screening exam in their local rural hospital.
Facilities were more motivated to start a CT lung cancer screening program in response to community need rather than financial considerations.
Survey participants offered a variety of reasons for implementing a CT lung cancer screening program, from providing a community service and tackling high smoking rates to requests from primary care providers.
"We do a community needs assessment every couple of years," one respondent said. "Then we try to build initiatives around supporting the community needs assessment, tobacco-related deaths, and our goal is to reduce hat. This fits in really nicely with our mission. We do have programs that honestly we lose buckets of money on ... but because they meet that mission, we do them."
An engaged champion
Slatore and colleagues noticed that the process of offering low-dose CT for lung cancer screening frequently started with primary care providers requesting the exams and a "champion" who took on the effort -- often another physician or a pulmonologist.
"We found two pathways to begin offering LDCT for lung cancer screening: either clinicians in the community started asking for the service and a champion was designated to spearhead and consolidate the process, or a champion started the process without prior community requests," the team wrote.
Having this champion was crucial, according to one participant quoted in the study.
The fact that most of these small or rural facilities offered some but not all the components of a lung cancer screening program suggests that supporting them to offer more isn't a "one-size-fits-all" task, according to the authors.
"In general ... facilities were aware of these potential [component] gaps but were unlikely to include these components in the future as they were already offering as many ... as they could reasonably provide," they wrote. "It seems unlikely that rural disparities in lung cancer screening utilization and adherence will be solved by an exclusive focus on the radiology facility level unless more resources can be directed to provide services to increase shared decision-making and ensuring appropriate follow-up."