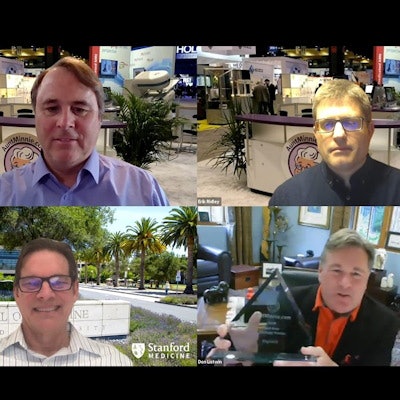 A Silicon Valley-based company called RapidAI is expanding its suite of artificial intelligence (AI) algorithms for detecting cerebrovascular conditions. The company won the Minnies award for Best New Radiology Vendor, and AuntMinnie.com spoke with RapidAI about its technology in this video interview.
The company is based on the idea that CT perfusion data can make a big difference in being able to more rapidly diagnose patients and improve management of their care. RapidAI's ultimate goal is to reduce door-to-needle time for emergent conditions like stroke.
In this video interview, RapidAI executives Don Listwin, president, and Dr. Greg Albers, co-founder and scientific lead, discuss the company's technology with AuntMinnie.com Editor-in-Chief Brian Casey and Senior Editor Erik L. Ridley.
Now in their 21st year, the Minnies awards are AuntMinnie.com's annual event recognizing excellence in radiology, with over 200 candidates competing in 15 categories, ranging from Most Influential Radiology Researcher to Radiology Image of the Year.
Minnies candidates are nominated by AuntMinnie.com members, with winners selected by an expert panel of radiology luminaries in two rounds of voting. Winners are recognized each year at the annual RSNA meeting. A full list of winners in the 2020 edition of the Minnies is available on AuntMinnie.com.