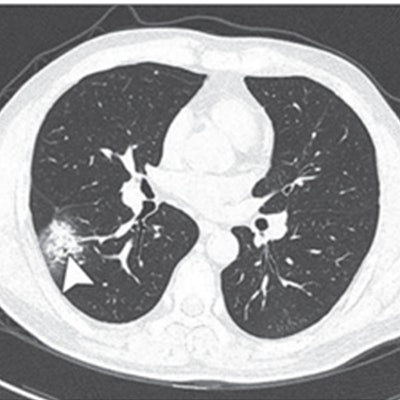 Although novel coronavirus disease (COVID-19) pneumonia tends to have typical imaging features, the presence of four features in particular may indicate more severe disease, according to a study published online March 3 in the American Journal of Roentgenology.
The study findings could help clinicians better evaluate the severity of the virus, wrote a team led by Dr. Wei Zhao of the Second Xiangya Hospital at Central South University in Changsha, China. Zhao and colleagues assessed chest CT imaging features among patients categorized into nonemergency and emergency groups.
"Four of 14 imaging features -- architectural distortion, traction bronchiectasis, intrathoracic lymph node enlargement, and pleural effusions -- were more likely to be found in the emergency group," the researchers wrote.
The rate of confirmed COVID-19 cases continues to rise, further stressing healthcare facilities as staff try to triage cases by type (mild, common, severe, or fatal), Zhao and colleagues noted. Findings on chest CT may help illuminate the severity of the illness, but research on these four types has yet to be performed.
To investigate further, Zhao and colleagues conducted a study to explore chest CT features of laboratory-confirmed COVID-19 in the hopes that what they discovered would help clinicians better screen for the disease.
Their study included 101 COVID-19 cases collected from four institutions in Hunan province. The team evaluated clinical characteristics and imaging features of each case and categorized cases by nonemergency (mild or common) and emergency (severe or fatal). Of the 101 patients, 87 were in the nonemergency group and 14 were in the emergency group.
The majority of the cases (70.2%) were in patients 21 to 50 years old. Most patients had the following imaging features:
Ground-glass opacities (86.1%)
Mixed ground-glass opacities and consolidation (64.4%)
Vascular enlargement of lesions (71.3%)
Traction bronchiectasis (52.5%)
The group also found that COVID-19 lesions were likely to have peripheral distribution (87.1%), have bilateral lung involvement (82.2%), be lower-lung predominant (54.5%), and be multifocal (54.5%).
But the investigators also found that more severe disease was associated with particular imaging features.
"Architectural distortion, traction bronchiectasis, intrathoracic lymph node enlargement, and pleural effusions, which may reflect the viral load and virulence of COVID-19, were statistically different between the two groups and may help us to identify the emergency type disease," the team wrote.
Prevalence of top 4 imaging features on chest CT in patients with COVID-19
Imaging feature
All patients (101)
Nonemergency patients (87)
Emergency patients (14)
Ground-glass opacities
86.1%
83.9%
100%
Mixed ground-glass opacities and consolidation
64.4%
64.4%
64.3%
Vascular enlargement
71.3%
67.8%
92.9%
Traction bronchiectasis
52.5%
47.1%
85.7%
Finally, the researchers also discovered that diffuse lesions were more common in the emergency group (78.6%, compared with 24.1% in the nonemergency group), a result that offers yet another marker for assessing COVID-19 severity, they concluded.