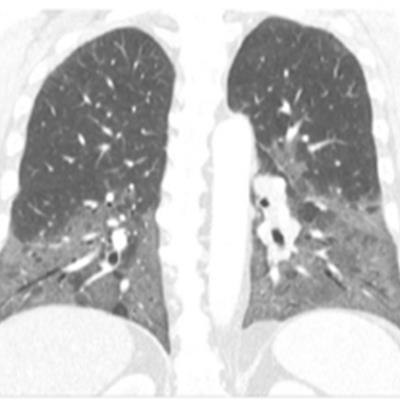 VIENNA - Researchers from the Medical University of Vienna have received a prestigious award for their ECR 2019 e-poster presentation about how to simplify the differential diagnosis of diffuse ground-glass opacifications (GGOs) using CT.
"Diffuse GGO is a commonly encountered pattern in CT scans of the lung and can prove to be a very time-consuming finding, as there are many possible differential diagnoses. Following a step-by-step approach can help to narrow down the differentials," noted lead author Dr. Sebastian Röhrich and colleagues Drs. Florian Prayer and Helmut Prosch.
The underlying mechanism of GGO is an increase in density caused by a partial filling or collapse of the alveoli or the thickening of the interstitial tissue, explained the researchers, who will receive one of five magna cum laude awards to be given at this week's congress.
Three essential questions can guide the differential diagnosis of diffuse GGO: Is it a pathology? Is the GGO acute or chronic? What is the patient's medical history? Once these questions have been addressed, it is important to review the imaging findings about the spatial and temporal distribution of GGO, in addition to the ancillary imaging findings, according to Röhrich and colleagues.
One of the most common findings simulating GGO is insufficient inspiration depth and dependent atelectasis, they noted. "A look at the posterior membranous tracheal wall can help to make sure that the patient has inhaled sufficiently. The typical distribution of dependent atelectasis in the posterior parts and adjacent to vertebral bodies further helps to distinguish them from GGO," the group wrote.
A second scan in deep inspiration or a prone position can help ventilate previously less aerated lung regions, the authors continued. Another pitfall is the misclassification of normal lung tissue as GGO in mosaic perfusion or next to air trapping, and, in this situation, it is mandatory to perform scans during both inspiration and expiration.
The other four magna cum laude winners for ECR 2019 are listed below:
Magnetic resonance of cervical cancer: relevance of T2- weighted imaging and apparent diffusion coefficient in predicting parametrial invasion. B. Sghedoni, F. Fiocchi, M.C. Gibertini, M.G. Vitale, I. Di Monte, L. Botticelli, G. De Marco, and P. Torricelli from Modena, Italy.
Minimally invasive surgery for early rectal cancer - what the radiologist needs to know. K. A. Watt, T. Tolley, M.J. Strugnell, and D. Shetty from Plymouth and Truro, U.K.
Pancreas in children: from head to tail. M. Gonzalo Carballés, A. Coma, X. Merino-Casabiel, L. Riaza, L. Riera, A. Castellote, J. Piqueras, J.C. Carreño, and E. Vazquez from Barcelona, Lleida, and Esplugues de Llobregat, Spain.
Tectorial membrane injury in the acute trauma setting: examining disparities between the adult and paediatric populations. P. Fiester, E. Soule, P. Natter, and D. Rao from Jacksonville, Florida, U.S.