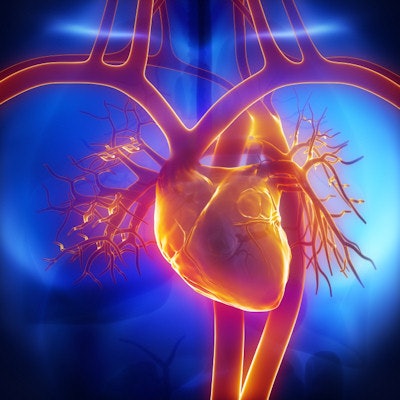 A new study using coronary CT angiography (CCTA) reveals that testosterone treatments may increase the risk of heart disease by raising the volume of arterial plaque by 20% among men 65 years and older. More research is needed to assess actual risk, according to a February 21 paper in the Journal of the American Medical Association.
The multicenter trial, which followed 138 men in the U.S. National Institutes of Health (NIH)-funded Testosterone Trials (TTrials), aimed to determine if testosterone treatment could help improve a series of end points in older men, including walking ability, vitality, balance, mood, bone health, and blood counts. The results showed that men who received testosterone treatments for a year had significant increases in total coronary and noncalcified plaque volumes at CCTA -- while the increase was negligible in patients who had been given a placebo.
"It showed there was a 20% increase in plaque in those taking testosterone and just a couple percent increase in plaque in those taking a placebo," said lead author Dr. Matthew Budoff, a cardiologist and researcher from the Los Angeles Biomedical Research Institute, in an interview with AuntMinnie.com. "There was much more atherosclerosis progression in those taking testosterone therapy."
The results were the opposite of what the endocrinologists involved in the study had predicted -- that testosterone would somehow have a protective effect.
"Clearly that was incorrect," Budoff said.
Budoff's co-authors from several U.S. institutions included Susan Ellenberg, PhD; Dr. Cora Lewis; Dr. Emile Mohler III; Dr. Nanette Wenger; Dr. Shalender Bhasin; and Dr. Peter Snyder (JAMA, February 21, 2017, Vol. 317:7, pp. 708-716).
Supplement's inconclusive results
Testosterone replacement is being used with increasing frequency in aging men. Nevertheless, the cardiovascular benefits and risks of such supplementation have yielded conflicting results, the authors noted. Meta-analysis of several clinical trials showed no association between testosterone treatment and adverse events, but a clinical study of men with mobility limitations showed an excess of cardiovascular events with testosterone supplementation versus a placebo.
The Cardiovascular Trial of the TTrials aimed to test the hypothesis that testosterone treatment of older men with low testosterone actually slows progression of noncalcified coronary artery plaque volume. The 170 patients in the prospective trial were a subset of patients in the TTrials, which aimed to determine the efficacy of testosterone management of men 65 years and older with low testosterone.
While the TTrials looked at several end points for measuring the effects of testosterone supplementation, "there was no cardiovascular end point," Budoff said. "So I went to the NIH and I was able to get funding for our study that looked at about 170 men."
The participants had an average of two serum testosterone levels lower than 275 ng/dL. In all, 82 men were randomized to placebo and 88 to testosterone, applying either testosterone gel or a placebo gel for 12 months. The primary study outcome was noncalcified coronary artery plaque volume, as determined by CCTA acquired at baseline and again after the 12-month study period.
Of the 170 men enrolled, 138 (73 receiving testosterone treatment and 65 receiving placebo) actually completed the study with results analyzed. At baseline, 70 men (50.7%) had Agatston scores of 300 or higher, indicating severe atherosclerosis.
Rapid plaque growth
Testosterone treatment versus the placebo was associated with a significantly greater increase in noncalcified plaque volume from baseline to 12 months (p = 0.003), the authors concluded. In secondary outcomes, median total plaque volume again increased significantly from baseline to 12 months in the testosterone group but rose little in the placebo group (p = 0.003).
Finally, the median coronary artery calcification score changed from 255 to 244 Agatston units in the testosterone group, versus 494 to 503 in the placebo group (estimated difference, 27 Agatston units). No major adverse events occurred in either group.
Primary findings: Noncalcified plaque volume (mm3)
Outcome
Placebo
Testosterone
Estimated difference, p-value
Baseline, median
317
204
Month 12, median
325
232
Change from baseline, unadjusted mean
4
40
Least squares mean
14
54
41, p = 0.003
Secondary findings: Total plaque volume (mm3)
Outcome
Placebo
Testosterone
Estimated difference, p-value
Baseline, median
499
272
Month 12, median
541
318
Change from baseline, unadjusted mean
21
57
Least squares mean
28
75
47, p = 0.006
Among older men with symptomatic hypogonadism, a year of treatment with testosterone gel compared with placebo was associated with a significantly greater increase in coronary artery noncalcified plaque volume at CCTA, the authors wrote.
The testosterone and placebo groups weren't perfectly matched; in fact, the testosterone supplementation group started with less plaque but still progressed rapidly, Budoff said.
"So it remains a fairly remarkable finding but a very valid one given the results," he said, and it remained so when "we went back and did more reproducibility measures to prove that this was a real finding."
Looking at implications
Now that this study is being published, Budoff said he is hopeful that he can participate in substudies of larger testosterone supplementation trials that are currently underway, and potentially explore a number of interesting additional findings with further research. For example, there are well-known but not well-understood gender differences in heart disease.
"We have always presumed that women had less heart disease than men because of the protective effects of estrogen, but perhaps women have less heart disease than men because they have less testosterone," he said. "It's a really interesting question that might change our whole concept of heart disease in men and women when we get a better understanding of the pathophysiology of what's going on with the difference in genders."
Also, could the rapid rise in plaque among the men supplementing with testosterone have something to do with taking a group of 70-year-olds and supplementing heavily enough to restore them to the levels of much younger men?
"That might be overreplacing some of the necessary testosterone," Budoff said. "I'm not saying testosterone in all forms of replacement is bad, I'm just suggesting that making a 70-year-old into a 45-year-old again may not be the healthiest thing for the coronary arteries. And that's what our study suggests. There are some large-scale studies underway that will look at overall effect of testosterone supplementation on heart attack and stroke, and I think this study supports earlier data from the [Testosterone in Older Men (TOM)] trial showing some harm from taking testosterone."