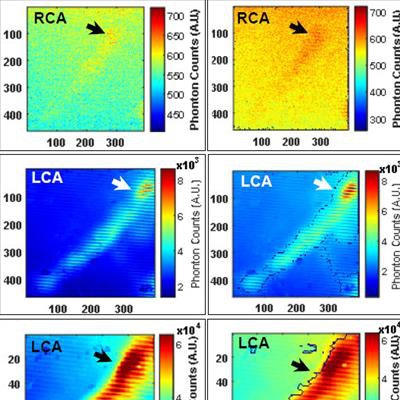 A three-modality molecular imaging system that combines PET with photoacoustic imaging can detect which plaques might rupture and induce a major adverse cardiac event, according to research presented at this week's Society of Nuclear Medicine and Molecular Imaging (SNMMI) annual meeting.
Researchers have understood for some time that certain types of atherosclerotic plaque are more prone to rupture, leading to embolism and possibly death. Particularly dangerous are thin-cap fibroatheromas (TFCAs).
Therefore, Raiyan Zaman, PhD, from Stanford University and colleagues developed a scanner that combines PET, optical, and photoacoustic imaging to evaluate for TFCAs, which can be small and difficult to detect.
Called the Circumferential Intravascular Radioluminescence Photoacoustic Imaging (CIRPI) system, the unit is capable of optical imaging via a beta-sensitive probe, as well as radioluminescent marking with PET inside the artery to determine the extent of inflammation. In addition, CIRPI is capable of photoacoustic imaging, which provides information about the biological makeup of the plaques.
In the study presented at SNMMI 2017, the researchers started with atherosclerotic samples of human and mouse carotid arteries and performed CIRPI scans after the injection of F-18 FDG. Next, they used photoacoustic lasers at different wavelengths to examine plaque composition, producing a 360° perspective of arterial plaque burden. The findings were confirmed by follow-up radiography, ultrasound, and histology.