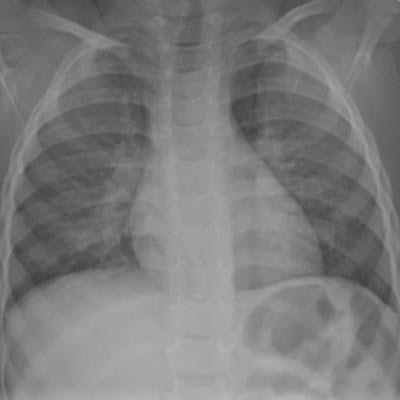 Expanding criteria for diagnosing pediatric pneumonia on chest x-rays to include patterns observed in both lungs could help guide better use of antibiotics in children, according to a study presented at the American Roentgen Ray Society (ARRS) annual meeting in Hawaii.
In a session on pediatric imaging, Dr. Michael Kurtz of Queen's University in Toronto, Ontario, presented a multicenter study that found that including x-ray signs of bilateral patterns of lung infiltrates could help identify more cases caused by viruses than bacteria.
"Inappropriate antibiotic use is rampant in children presenting with pneumonia, and this contributes to an increase in drug resistance," Kurtz said.
According to the U.S. Centers for Disease Control, an estimated 70% of pneumonia cases overall are caused by a virus versus 30% of cases caused by bacteria. Previous studies suggest that asymmetric patterns on radiographs are associated with bacterial processes requiring antibiotic treatment, while symmetric patterns are associated with viral processes, Kurtz noted.
However, current guidelines, including the World Health Organization's criteria for diagnosing pneumonia in children using x-rays, are not specific regarding associations with asymmetric and symmetric patterns, he added.
In this study, the researchers aimed to further establish the clinical importance of these associations. They reviewed 978 chest x-rays from children under 6 years old suspected of pneumonia who underwent imaging at two emergency departments between 2017 to 2020. Two pediatric radiologists interpreted the exams based on five patterns: normal, symmetric interstitial, asymmetric interstitial, asymmetric airspace, and mixed. Extensive clinical data were obtained, including the identified organism involved, and the researchers then correlated these with the chest x-ray patterns.
According to the readings, 42% of the chest x-rays were normal, 19% were interpreted as symmetric interstitial, 10% as asymmetric interstitial, 18% as asymmetric airspace, and 11% as mixed.
The analysis revealed that respiratory syncytial virus (RSV)-positive cases had normal interpretations in 20%, symmetric interstitial patterns in 46%, asymmetric interstitial patterns in 16%, and mixed pattern in 19% (p < 0.001). There were no known RSV cases demonstrating an asymmetric airspace pattern in the study, Kurtz noted.
"The distribution of pneumonia patterns in our study, including the group with known RSV, mirrors the epidemiology literature regarding expected incidence of viral versus bacterial versus mixed infectious pneumonic processes," Kurtz said.
Ultimately, a typical viral process should result in a more diffuse pneumonic process visible on chest x-rays compared with a bacterial one, Kurtz said. Moreover, a significant percentage of viral pneumonias will have normal radiographs, which in any case should also not warrant antibiotic use, while patients with asymmetric interstitial patterns on chest x-rays understandably may receive antibiotic treatment, he suggested.
"We hope this observation will help support the physician's decision not to prescribe antibiotics for the child with pneumonia," he concluded.