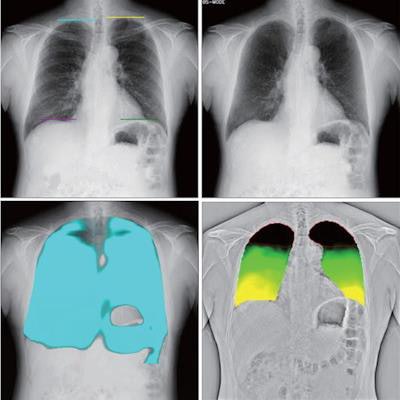 Dynamic chest radiography (DCR) has potential to become a common exam for assessing pleural adhesions in patients prior to surgery for lung disease, according to a study published March 22 in the Journal of Thoracic Disease.
A team led by Dr. Takuya Watanabe, PhD, of Seirei Mikatahara General Hospital in Hamamatsu, Japan, found DCR was accurate in preoperative evaluations in 85% of patients enrolled in a clinical trial. The study results provide further evidence that DCR is an alternative to standard imaging, the authors suggest.
"We demonstrated the utility of DCR, showing its high specificity and negative predictive value," the group wrote. "DCR has the potential to become a common preoperative examination for detecting pleural adhesions."
When planning surgery to remove lung tumors, for instance, it is important to determine the presence of pleural adhesions -- scarring in tissue covering the lungs -- as these can complicate surgery, the authors explained.
DCR is a novel real-time digital imaging technique that produces clear, wide field-of-view diagnostic images of the thorax and diaphragm in motion, as well as metrics of moving structures within the thoracic cavity. Another one of its benefits is that it requires less radiation exposure than standard CT imaging.
Previous studies have explored the use of DCR for evaluating diaphragm movement or air trapping in patients with chronic obstructive pulmonary disease and for diagnosing pulmonary hypertension, yet there are no reports concerning the application of DCR in thoracic surgery, that researchers wrote.
To address the knowledge gap, Watanabe and colleagues evaluated DCR in a clinical trial in 120 patients who underwent thoracic surgery between January 2020 and May 2022 at their hospital in Hamamatsu. In all patients, DCR was performed within three days before surgery.
Dynamic image data were acquired at 15 frames per second and were synchronized with pulsed x-ray, with a radiation dose of approximately 1.7 mGy (under the 1.9 mGy dose limit for 2-directional chest x-rays recommended by the International Atomic Energy Agency, the authors noted).
According to presurgical DCR imaging, pleural adhesions were suspected in 27 (22.5%) patients, not suspected in 92 (76.7%) patients, and undetermined in one (0.8%) patient whose imaging showed an artifact.
The patients underwent surgery, and surgeons found pleural adhesions in 31 (26.1%) patients, while 88 (73.9%) patients had no adhesions. The preoperative DCR evaluation proved accurate in 101 (84.9%) patients and inaccurate in 18 (15.1%) patients, the authors reported.
"DCR was able to be performed in patients of all ages (even for patients over 80 years old) with many different lung diseases, regardless of the presence of emphysema or interstitial lung disease," they wrote.
While DCR is a flat-panel detector-based system that can be performed with a conventional x-ray generator, the software program used for analyzing low-motion areas in the lungs is not yet available for use in clinical practice in Japanese hospitals, the investigators added. A program that can conduct this analysis in greater detail would likely improve the utility of DCR, according to Watanabe and colleagues.
"We hope that, in the future, not only pleural adhesion but also invasion of the chest wall or around organs will be able to be detected easily using DCR," they concluded.