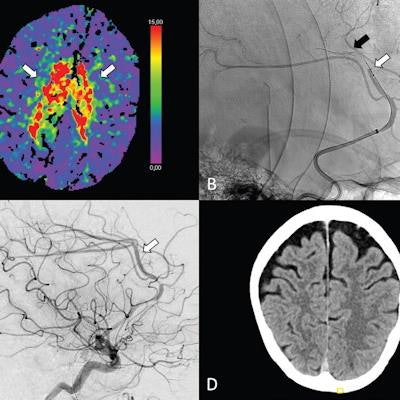 Mechanical thrombectomy may be a safe approach for patients who have had a rare type of stroke due to blood clots in small brain vessels, according to a study published February 14 in Radiology.
A group led by Dr. Lukas Meyer of University Medical Center Hamburg-Eppendorf in Hamburg, Germany, studied safety outcomes in stroke patients within 24 hours after undergoing the procedure. Thrombectomy was safe and may offer a new approach for preventing neuropsychologic symptoms in these patients, they found.
"The overall results of the study are consistent with a growing body of literature suggesting that thrombectomy may have a role in the treatment of this type of stroke," Meyer said, in a news release from RSNA.
Mechanical thrombectomy is a type of minimally invasive endovascular therapy in which an interventional radiologist uses specialized equipment to remove a clot from a patient's artery. This restores blood flow and reduces damage to brain tissue.
While endovascular therapy has become the gold standard treatment for large vessel occlusion strokes, recent advances in technology have made the procedures possible in some of the brain's narrower vessels, as in distal medium vessel occlusions (DMVOs) of the anterior cerebral artery (ACA), the authors explained.
These ACA occlusions account for less than 2% of all ischemic strokes and evidence supporting a potential benefit of mechanical thrombectomy for these patients remains lacking, the authors noted.
Thus, the researchers aimed to establish whether the procedure is safe. They culled data on 154 patients enrolled in an international registry of patients treated for DMVO in daily practice. Patients treated with thrombectomy (n = 94) or "best medical treatment," typically medications alone (n = 60), between January 2013 and October 2021 were analyzed and compared.
The researchers assessed early outcome, or outcomes within the first 24 hours after treatment, including any reports of bleeding in the brain and death.
The analysis showed that thrombectomy was a safe and technically feasible option. Within the first 24 hours after treatment, thrombectomy patients had similar outcomes to those who received best medical treatment alone, with or without intravenous thrombolysis. In addition, thrombectomy for primary isolated occlusions led to high rates of successful reperfusion in 76 of 94 patients (81%), according to the findings.
Longer term, both groups had similar clinical and functional outcomes and mortality rates were similar in both groups, the researchers added.
"Based on our study, both treatment options appear to be effective and safe," Meyers said.
Ultimately, this was a feasibility study, and the researchers called for additional studies in anticipation of an increasing number of patients with medium vessel occlusions being treated with thrombectomy.
"Our study reinforces clinical equipoise and encourages ongoing and upcoming randomized trials investigating treatment options for distal medium vessel occlusion stroke," the group concluded.