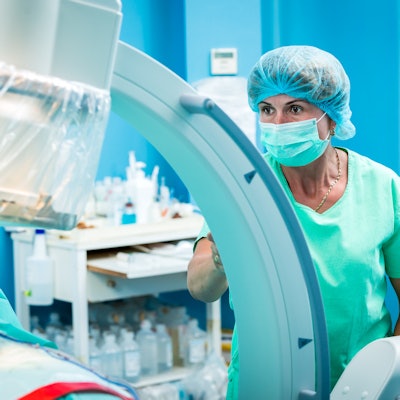 Children who experience large vessel occlusion (LVO) stroke have better clinical outcomes when treated with thrombectomy rather than medical management alone, according to a July 24 study in JAMA Neurology.
In a matched case-control study, a team led by Kartik Bhatia, PhD, of Children's Hospital at Westmead in Australia, pooled stroke registry data of children treated for LVO stroke at five tertiary referral hospitals in Australia and Canada. They found better clinical outcomes with thrombectomy than medical management alone in children.
"Mechanical thrombectomy resulted in significantly better functional outcomes than medical therapy alone at three months," the group wrote.
Mechanical thrombectomy is the gold standard treatment for LVO in adults. It is a type of minimally invasive endovascular therapy in which interventional radiologists or neurointerventionists remove blood clots from the brain after patients experience ischemic stroke. This restores blood flow and reduces damage to brain tissue. Yet the procedure remains less accepted in pediatric patients, due largely to a lack of clinical trial data, according to the authors.
To address this knowledge gap, the researchers conducted a matched case-control study by pooling stroke registry data from five hospitals in Australia and Canada from January 2011 to April 2022. They identified 31 patients aged 1 month to younger than 18 years with acute LVO stroke treated by thrombectomy and 46 control patients who had received medical management with tissue plasminogen activator (tPA), a clot-dissolving medication.
Of these patients, matching was achieved for 26 children undergoing thrombectomy with 26 controls.
The primary outcome was the patients' functional clinical status three months following stroke, measured by the pediatric modified Rankin Scale (mRS), with outcomes compared between the groups. The mRS is a widely used scale that ranges from 0 to 6, with 0 indicating no symptoms. Symptoms increase with higher scores up to 6, indicating death.
According to the findings, mechanical thrombectomy resulted in significantly better functional outcomes than medical therapy alone at three months. Specifically, the absolute risk reduction for a poor outcome (a pediatric mRS score of 3 to 6) with thrombectomy at three months was 19.2%, the authors wrote.
"The difference between groups was statistically significant, and these superior outcomes were maintained at final available follow-up," the researchers wrote.
The authors noted that a randomized clinical trial to compare the approaches was not feasible due to likely small sample sizes and loss of equipoise, the researchers noted. This describes a situation in which investigators may be convinced that one treatment is superior to the other before there is evidence to support such a conclusion.
Yet to date, more than 400 pediatric patients undergoing mechanical thrombectomy are reported in the literature, including case reports, case series, and retrospective single-arm cohort studies, they noted. This study thus adds to the emerging evidence that thrombectomy may be more beneficial in pediatric patients over medical management alone, they wrote.
"In the absence of a randomized trial, this case-control study demonstrates better clinical outcomes with thrombectomy than medical management for pediatric patients," the group concluded.
The full article in JAMA Neurology can be found here.