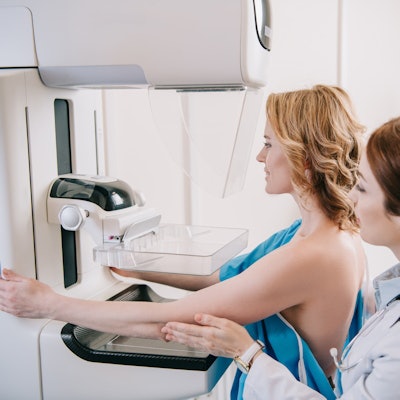 Another study has confirmed that breast and cervical cancer screening saw declines in volume during the COVID-19 pandemic -- a decline that translates to over 2 million women who missed mammography exams, researchers said in a June 3 study in JAMA Network Open.
Researchers led by Stacey Fedewa, PhD, from Emory University in Atlanta wrote that after four years of steady procedure volume from 2014 to 2018, the volume of breast cancer screening decreased by 6% between 2018 and 2020, and by 11% for cervical cancer screening.
"The decrease in breast and cervical cancer screening rates in the future may lead to increases in detection of cancers at advanced stage and cancer mortality," co-author Ahmedin Jemal, PhD, from the American Cancer Society told AuntMinnie.com. "Radiologists can help their patients, friends, and families become up to date for screening according to guidelines or recommendations."
The pandemic caused disruptions in the first quarter of 2020 as routine cancer screening tests were paused. Previous reports found sharp decreases in breast, cervical, and colorectal screening volumes in March and April that year.
Screening volumes improved after screening services reopened and safety protocols were implemented, but previous research suggests that missed screenings could lead to long-term consequences.
Fedewa and colleagues wanted to evaluate changes in screening volumes for breast cancer, cervical cancer, and colorectal cancer. They looked at the prevalence of breast, cervical, and colorectal cancer screening that complied with established guidelines and compared it with prior years. The researchers also looked at potential variations in screening volumes by race, ethnicity, and socioeconomic status to find out whether screening disparities worsened.
The survey study included 479,248 patients in the breast cancer screening arm, 301,453 in the cervical cancer screening arm, and 854,210 in the colorectal cancer screening arm. Among respondents ages 50 to 75 in 2020, 14,815 (11.4%) were Black, 12,081 (12.6%) were Hispanic, 156,198 (67.3%) were white, and 79,234 (29.9%) graduated from college.
The study authors found that prevalence rates for breast, cervical cancer, and colonoscopy were stable before the pandemic but dropped in 2020. Meanwhile, the screening prevalence of stool testing actually rose in 2020. The researchers said the variance indicated the potential of at-home screening to counterbalance declines in colonoscopy screening.
Change in screening prevalence before and after COVID-19 pandemic
Screening exam
2014
2016
2018
2020
Breast screening
62.0%
61.7%
61.6%
57.8%
Cervical screening
53.8%
58.5%
58.3%
51.9%
Colonoscopy
15.4%
15.8%
15.6%
13.2%
Stool testing
9.9%
10.6%
11.5%
12.3%
"The corresponding number for breast cancer screening was about 2.13 million fewer women ages 50-74 years," Jemal said.
Fedewa et al also found that breast and cervical screening prevalence rates in 2020 were lower in people with less than a high school diploma (50.3%) compared with those with college degrees (62.2%). Breast cancer screening also decreased by 10% between 2018 and 2020 among people with less than a high school diploma compared with a 6% decrease among college-educated respondents, the authors added.
Breast cancer screening prevalence also dropped more among Hispanic women, with an adjusted prevalence ratio (aPR) of 0.90. This rate was 0.73 among Asian women and 0.83 among American Indian or Alaska Native women compared. White women, meanwhile, had an aPR of 0.95.
The team also found no changes in past-year colorectal cancer screening prevalence, with a 7% increase in stool testing and a 16% decrease in colonoscopy.
The researchers wrote that while it isn't currently known how these findings might be linked to outcomes, they will be important to monitor. They added that this "especially" goes for populations with lower socioeconomic status, who experienced greater screening decreases during the pandemic.
The study authors added that while the pandemic exacerbated long-standing socioeconomic barriers to screening, "less obvious" structural factors may have also created barriers.
"For example, health care systems may have prioritized those at higher risk of developing cancer, and risk-based models are often based on white populations," they wrote. "In addition, people cited fear of COVID-19 as a reason to avoid medical care, and people's assessment of the benefits of preventive medical care versus COVID-19 risk may be influenced by COVID-19 burden in their community."
Jemal told AuntMinnie.com that the team will monitor changes in stage at diagnosis, treatment, and survival to assess the long-term impact of reduced screening rates associated with the pandemic.
In an accompanying editorial, Jennifer Spencer, PhD, and Dr. Michael Pignone from the University of Texas at Austin wrote that for increases in screening to reduce cancer incidence and mortality, healthcare systems need to address quality of care after screening to make sure people with abnormal screenings are connected with timely, appropriate follow-up for additional work-up or treatment.
"Gaps in appropriate follow-up are common and may be another factor associated with disparities in cancer incidence and mortality," the two wrote. "As the data from Fedewa and colleagues show, we are making progress in implementation of effective cancer screening services, but there remains much to be done to bring the benefits of screening to the whole population."