A CT-guided, minimally invasive procedure called a stellate ganglion block shows promise for restoring the sense of smell in patients with long COVID, according to research to be presented at the upcoming RSNA meeting.
Parosmia, or impaired sense of smell, is a known symptom of COVID-19, and research has shown that up to 60% of patients with the disease are affected by parosmia. Most recover their sense of smell over time, but some continue to experience parosmia months or years after the initial infection, the team noted.
"Post-COVID parosmia is common and increasingly recognized," said study lead author, Adam Zoga, MD, of Jefferson Health in Philadelphia, PA, in a statement released November 20 by the RSNA.
Zoga and colleagues investigated a possible treatment for parosmia consisting of a 10-minute, CT-guided stellate ganglion block. These nerves are on each side of the neck and are part of the body's autonomic nervous system; they deliver signals to the head, neck, arms, and upper chest. The procedure does not require sedation or intravenous anesthetic, just injected anesthetic at the site. Stellate ganglion blocks have been used for other conditions such as cluster headaches, phantom limb pain, angina, and cardiac arrhythmia, the team noted.
The researchers conducted a study that included 54 patients referred by an ear, nose, and throat specialist after at least six months of post-COVID parosmia. All underwent the stellate ganglion block procedure; the team used CT to position a 25-gauge spinal needle at the base of the neck to inject the anesthetic into the stellate ganglion.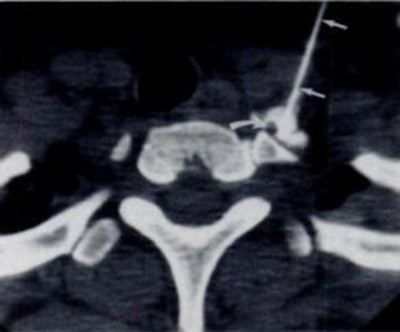 Of the 54 study participants, 37 had available follow-up. Of these, 22 (59%) reported improvement in symptoms at one-week follow-up, and of these 22, 18 (82%) reported "significant progressive improvement" at one month after the procedure. At three-month follow-up, there was a 49% improvement in symptoms among the 22 patients. None of the patients reported complications or adverse events.
"The initial patient had a tremendously positive outcome, almost immediately, with continued improvement to the point of symptom resolution at four weeks," Zoga said in the statement. "We have been surprised at some outcomes, including near 100% resolution of phantosmia in some patients, throughout the trial."
Percutaneous stellate ganglion block shows promise for patients with long term post-COVID parosmia, and CT provides ideal efficiency and guidance, Zoga and colleagues wrote in an abstract about their research.
"CT-guided stellate ganglion block is a new, minimally invasive and potentially impactful image-guided therapy for patients with longstanding post-COVID parosmia," they concluded.