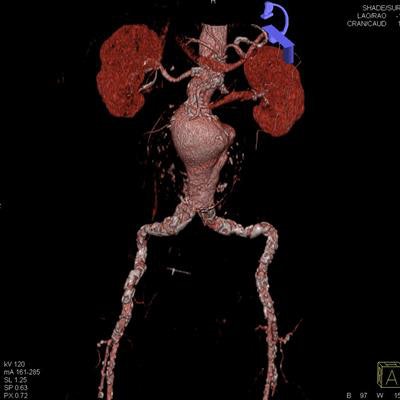 In vascular abdominal emergencies, patient status can degenerate quickly, so time is of the essence. CT is pivotal for fast and appropriate triage of patients and selection of the best treatment strategy. But what if the really important signs and symptoms are small and hidden? New technologies are helping to provide the answers.
If a radiologist fails to diagnose abdominal bleeding or large vessel thrombosis, then poor outcome is almost inevitable, so patients should be sent straight to contrast-enhanced CT angiography (CTA), according to Dr. Valentin Sinitsyn, head of radiology at the Federal Centre for Rehabilitation and Treatment in Moscow and past president of the ECR.
"Radiologists should report the direct signs of acute bleeding or thrombosis, presence of vascular ruptures, dissections or lacerations, aneurysms and pseudoaneurysms, blood clots, and hematomas," he told ECR Today ahead of the congress, adding that they also should check for signs of total or regional organ ischemia (hypoperfusion, edema, or necrosis) associated with bleeding or thrombosis.
For detection of acute continuous bleeding, CT is equal to traditional catheter angiography and provides additional information about abdominal and retroperitoneal organs and structures in 3D. Furthermore, modern scanners allow low-dose CTA of the whole abdomen with high diagnostic yield.
Sinitsyn's talk will in part focus on the use of dual-energy CT (DECT) for such emergency vascular cases. The technique increases conspicuity of iodine extravasation and intravascular thrombi, and the radiologist often can skip nonenhanced scans and perform only a single contrast-enhanced acquisition with reconstruction of virtual noncontrast images.
"DECT can yield qualitative information similar to MRI and reveal small quantities of iodine in tiny blood leaks in the soft tissue. There is no difference for the patient in terms of time, compared to nonenhanced scans, but it is only available on new generation scanners, less than 1% of all existing CT machines," he noted. "Given that the life span of a machine is eight to 10 years, it will be another decade before we can expect to see DECT routinely applied in acute abdominal emergencies."
In vascular abdominal emergencies, dual-phase (arterial and venous) low-dose enhanced CT, followed by fast review to decide if extra imaging is necessary, remained the protocol of choice. Without enhancement, very small leaks are hard to detect, so biphasic enhanced CT is a "must" for these tiny leaks and thrombosis. Using DECT, a single arterial-phase CT may be sufficient, Sinitsyn added.
Despite CT's manifold advantages, radiologists should be aware of the potential pitfalls of the modality in vascular emergencies; for instance, enhancement of bowel mucosa or vascular tumors may be misinterpreted as acute bleeding, while poor opacification of arteries or veins may look like thrombosis.
Conversely, cases of acute bleeding may be missed because the rate of bleeding is low or the bleeding has stopped, resulting in perceptual errors whereby small amounts of iodine are missed. Radiologists should be aware of the differentials and check for bleeding as opposed to just inflammation or distention. Furthermore, hyperdense content inside bowel loops might mask acute blood clots, he warned.
"Detecting bleeding is difficult within the bowel due to the radiological signs associated with presence of food. DECT can help to determine if the hyperdense content is due to iodine, calcium, or other types of material," Sinitsyn said.
At today's session, speakers will discuss the shift in diagnostic approach toward ultrasound and CT, the latter noted for speedy coverage of large anatomical areas, and reliable results are relatively independent of operator and patient preparation.
ECR delegates will hear how suggestions made by radiologists carry considerable implications for patient management. Dr. Krzysztof Pyra, consultant radiologist in the department of interventional radiology and neuroradiology at the University Hospital of Lublin in Poland, today will address which patients need consultation with an interventional radiologist to determine their suitability for minimally invasive procedures.
When considering repair options for abdominal vascular emergencies, each case requires a tailored approach, with the patient's overall health taken into consideration, along with the specific, often life-threatening injury.
In his presentation today, Pyra will cover the most frequent findings and their different treatment options. Traumatic arterial injuries often present in CT as contrast blush areas of high density. In the majority of cases, transvascular embolization of the injured vessel may be the method of choice and is superior to the classic surgical approach.
He thinks retroperitoneal hematoma adjacent to an abdominal aortic aneurysm is the most common imaging finding indicative of aneurysm rupture. Endovascular aneurysm repair (EVAR) has become an established technique for the treatment of many infrarenal aortic aneurysms. Less invasive than open surgical repair, EVAR is associated with better outcomes, according to Pyra (see figures 1 and 2).
The interventional radiologist's remit also rests on the repair of other relatively common pathologies; acute aortic dissection, for example, occurs when blood enters the medial layer of the aortic wall through a tear or penetrating ulcer in the intima and tracks along the media, forming a second blood-filled channel within the wall.
"It is the interventional radiologist's task to identify and dilate the true lumen, exclude the entry tear by implanting a stent graft and, if necessary, provide blood inflow to the vital abdominal organs," he said.
Rare findings, such as arteriovenous malformations, are extremely challenging and require accurate diagnosis and appropriate treatment, especially if they are high-flow and/or extensive lesions. Embolization with coils and 98% ethanol is just one of the many existing treatment possibilities (see figure 3).
"The radiology curriculum should put much more emphasis on expanding clinical knowledge, so that radiologists become even better partners in the decision-making process on the patient's pathway. The diagnostician may -- or even should -- advise on implementing minimally invasive therapeutic methods in particular cases," Pyra said.
Furthermore, knowledge of these novel therapies is growing among patients, who may wish to participate actively in choosing their treatment.
"Having in-depth knowledge about interventional procedures not only will let you propose treatments to the referrer but also directly to the patient -- the person often omitted in the decision-making process," he said.
Originally published in ECR Today on 4 March 2018.
Copyright © 2018 European Society of Radiology