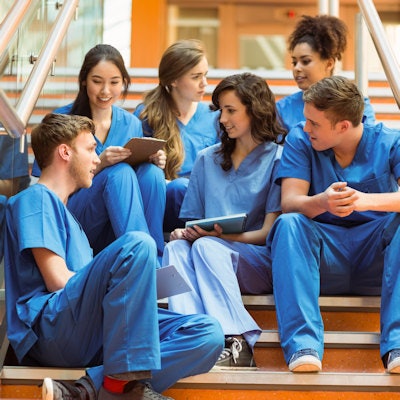 Most radiology residents see the virtual residency interview and matching processes in a neutral or positive light, according to survey results published January 21 in Academic Radiology.
Researchers led by Dr. Jonathan Levine from Northwestern University in Chicago found comparable satisfaction rates among residents who were matched in 2020 or 2021 when virtual application processes were fully implemented.
"The findings support a virtual platform as a viable alternative to in-person recruitment for diagnostic radiology residencies from a first-year diagnostic radiology resident perspective," Levine and colleagues wrote.
The COVID-19 pandemic led to virtual communication technologies being put into the spotlight in many fields, radiology included. For aspiring residents, this meant applying and being interviewed for residencies virtually.
The researchers pointed out that not much is known about how the sudden pivot to virtual interviews has affected radiology residents. However, that hasn't stopped medical leaders from debating the pros and cons of such a process.
Levine and colleagues sought to explore differences in the perception of first-year radiology residents who matched in 2020 versus 2021 when it came to the matching process and early satisfaction with residency programs. They used a five-point Likert scale to measure satisfaction, with five indicating highest satisfaction.
They analyzed survey data from 108 residents, including 62 who matched in 2021 and 46 who matched in 2020. Out of these, 43 residents in the 2020 cohort (92.5%) interviewed in-person compared with one of 60 (1.7%) in the 2021 group (p < 0.0001).
The researchers found that both groups reported being satisfied with the interview process, matching, and training program experience.
Assessment of virtual residency application from residents matched in 2020 and 2021 (ranked on a 5-point scale)
Measure
2020 group
2021 group
p-value
Ability to present self during interview
4.4
3.9
< 0.002
Satisfaction with amount of time to ask questions
4.5
4.1
0.02
Satisfaction with match result
4.4
4.5
0.54
Satisfaction with training program
4.4
4.5
0.49
The researchers also found no significant differences among both groups when it came to work culture, satisfaction with facilities, and residency structure depictions.
Of the 2020 group applicants, 63% of applicants reported favoring in-person interviews, while 76% of the 2021 group were either neutral or in favor of virtual interviews for future cycles.
The researchers noted that perceived disadvantages of virtual recruitment were not decisive factors for residents who went through the 2021 match cycle, and called for follow-up studies of residents in the 2021 group to explore long-term satisfaction with the application process, training at matched programs and fellowship placements.
"If the virtual interview process is to be continued, the concerns of those who matched virtually should continue to be addressed in order to improve future cycles," they wrote.