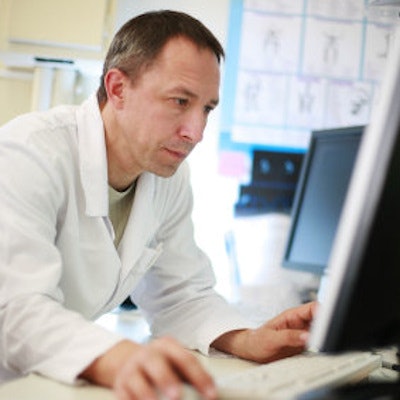 Applying the American Board of Internal Medicine Foundation's "Choosing Wisely" framework could mitigate physician burnout -- including among radiologists, according to a report published November 4 in JAMA Health Forum.
Implementing a strategy that identifies unnecessary healthcare services can drive positive workforce change in a healthcare system, wrote a research group led by Dr. Eve Kerr from the University of Michigan.
"Prospective evaluation of new practices prior to widespread implementation may prevent burdensome and low-value practices from being established in the first place," the team noted.
Burnout is characterized as a long-term stress reaction that presents as emotional exhaustion, depersonalization, and a lack of sense of personal accomplishment, and it continues to be a persistent challenge among radiologists. In fact, it was voted as the biggest threat to the field in the 2022 Minnies. Even before the COVID-19 pandemic, burnout presented as a troubling problem, with radiologists being asked to do more with less resources. Previous research has suggested that burnout leads to clinicians leaving healthcare, as well as more patient safety incidents.
Physician leaders have explored different ways to combat burnout in recent years. The "Choosing Wisely" campaign, founded by the American Board of Internal Medicine Foundation, was created in 2012. It provides clinicians and patients with rules of thumb about which screenings, tests, scans, and treatments they can safely avoid ordering for patients due to lack of evidence that they make a difference.
The authors highlighted the following actions healthcare organizations can take to help "choose wisely" and thus ease burnout among their physicians:
Ask clinicians to list low-value clinical management practices.
Flag clinical management practices that can be discontinued without changes to external regulations and tag others that may require regulatory reforms.
Partner with regulators and stakeholders to change, scale back, or eliminate burdensome requirements and regulations.
Efforts to make changes to the healthcare enterprise will take time and coordination among policymakers, payers, and regulators, the team warned. But the effort is necessary for a healthy care system.
"Implementing this agenda, in concert with other needed changes to improve clinicians' work lives, can result in substantial positive changes to clinicians' everyday lives, changes that are essential to addressing continued operational disruptions due to workforce departures that threaten gains in quality, safety, equity, and trust in the U.S. health care system," the group concluded.