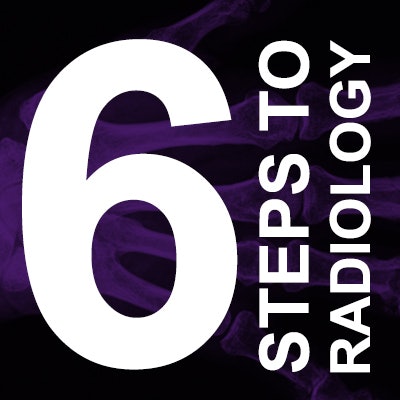 6 Steps to Radiology is a series of six articles that will run throughout the 2018-2019 academic year to help medical students find their ideal radiology residency program. It includes answers to common questions that radiology program directors and advisors have been asked; some advice reflects the personal opinions of the authors.
Now that the hustle and bustle of the radiology residency interview season has drawn to a close, it is time to take those last few steps toward Match Day, March 15. This is a time to reflect on the experiences you have had over the last four to six months and solidify in your mind those that have left lasting impressions.
Drafting, finalizing, and certifying your rank list
Going with your gut
Before creating your rank list, take a few moments to decide which programs you have a "gut feeling" about, both positive and negative. Ask yourself which institutions made you feel at home. Where did you meet people with whom you had the most genuine personal connections? Where will you have the most opportunity to succeed based on your interests and needs as a learner? Similarly, were there any red flags raised during an interview day that would make you exclude a program from your rank list?
Make a rough draft of your list based purely on these feelings. It is important to remember that programs should be listed in order of your preference rather than the perceived likelihood that you will match there. When it comes to your rank list, shoot for the moon and pick your dream institution.
Details, details
After you have made a rough draft of your list, it may also be helpful to review any notes that you took on each of your top programs and your visit to their respective cities during the interview season. Compare objective data like the cost of living and commute, as well as the amount of support each institution offers for travel to conferences, board prep, book funds, dedicated research time, and vacation and family leave. The investments that a program makes in its trainees can speak volumes, and this is important to consider.
Couples matching
If you are participating in a couples match, be sure to be open and honest with your partner about your preferences and thoughts about each of your shared programs. Decide whether it is important to you to attempt matching at the same program rather than just in the same geographic region.
It may be useful to speak with alumni from your institution who have also navigated the Match process as a pair. Additionally, the National Resident Matching Program (NRMP) website has lots of information about strategies for couples in the Match, creating a couples rank list, and if need be, instructions for uncoupling.
One last look
Before certifying your list, review it one more time. Discuss it with loved ones, family, and friends who know you well and may provide insights or feedback that you hadn't considered. Once you have a list that you feel good about, it is time to certify. To prevent any anxiety related to last-minute decisions or possible technical difficulties, we recommend certifying your list at least 24 to 48 hours before the certification deadline.
Contacting your No. 1 program
Once you have decided that you will be putting a program at the top of your list, it is wise to contact the program director to declare your commitment to ranking that program No. 1. This is both an exciting and serious conversation to have, and you should only send an email of this type to one program.
From the perspective of program directors, applicants who want to match with them are appealing because they will be happy with the outcome. Indicating that a program is high on your list may be helpful, but program directors are aware that this does not equate with being ranked first.
That being said, do not promise multiple programs that you will be ranking them first -- this should be a genuine message to the leadership of the institution you'd most like to call home during your four years of residency. If you were a standout for a particular program, do not be surprised if you receive a message informing you that you are ranked to match. You are not required to respond or provide any information about your rank list, but program directors do appreciate acknowledgement that you received the information.
Prioritizing self-care
Making time for you
The time period between submitting your rank list and Match Day can feel like an eternity, and it can be particularly stressful amid wrapping up clinical rotations, thinking about graduation, and preparing to start the next chapter of your life. Take time for yourself to focus on your physical and mental well-being to both reduce stress and briefly distract from the balancing act that is the last stretch of the fourth year of medical school.
Do activities that are meaningful to you and provide you with a brief escape. Exercise, meditation, cooking, spending time with family and friends, playing with pets, and getting outdoors (weather permitting) can all help. Make sure that you are eating three meals per day, staying hydrated, and getting enough sleep at night. Talking with others who are also going through the application and Match process can be helpful, but avoid this if it makes you more anxious.
Looking inward, looking forward
It is also important to take this time to reflect on all that you have accomplished during the last four years. It takes a special person to pursue a career in medicine, and you have worked hard to get to this point. Radiology is a competitive specialty, and you are among an elite group of medical students applying.
Know that all of the time and effort that you have put into your pre-clinical years, clinical rotations, extracurricular activities, and research have led you to this point in your life and will soon pay off when you receive the results of the Match and take the next step toward an exciting and fulfilling career.
Match Week: What to expect
See the NRMP's Match Week page for full details about the final countdown.
Friday
On the Friday before Match Week, you will receive an email from the NRMP regarding your eligibility to participate in the Supplemental Offer and Acceptance Program (SOAP). This is not indicative of whether you have matched, so do not be alarmed when this arrives in your inbox.
Monday
On Monday of Match Week, you will receive an email notifying you whether you have matched, but the details of where will have to wait a few more days. If you are unmatched and are eligible to participate in the SOAP, details will be included in this email as well.
Tuesday through Thursday
Programs with unmatched slots will review the applications of unmatched applicants and create SOAP preference lists. SOAP rounds 1, 2, and 3 take place on Wednesday and Thursday.
Friday
Match Day! Attend your school's Match Day ceremony, where you will learn the results of your Match at 12 p.m. Eastern time. Make time to celebrate with family and friends, take lots of pictures, and be proud of this incredible accomplishment!
Dr. Pamela Johnson is the vice chair for quality and safety in the department of radiology at Johns Hopkins Hospital and is the former radiology residency program director. In 2016, she received AuntMinnie.com's Minnies award for Most Effective Radiology Educator. She has published more than 150 articles and contributed more than 75 educational exhibits to the RSNA conference, many of which have been recognized with awards and solicitation by RadioGraphics.
Dr. Erin Gomez is a fourth-year radiology resident and one of the current chief residents for the department of radiology at Johns Hopkins. Her academic interests include education, peer mentoring, and quality improvement. In addition to spearheading various educational innovations in the department, she has published multiple peer-reviewed articles and presented numerous education and quality improvement abstracts at national meetings.
Dr. Lilja Solnes is the program director for the diagnostic radiology and molecular imaging residencies at Johns Hopkins. She is the former program director for the nuclear medicine residency program and is an assistant professor of radiology. She has published multiple peer-reviewed articles.