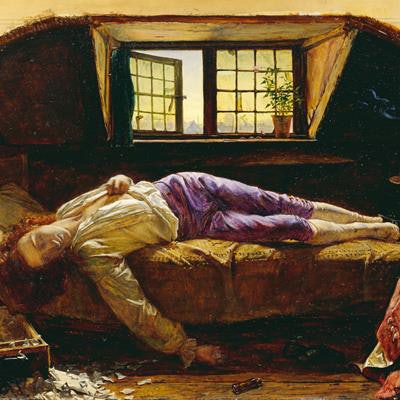 To produce better radiologists, try some fine art, concludes a recent study in the Journal of the American College of Radiology. Researchers from Yale University found that teaching residents how to analyze a painting improved their ability to identify abnormalities on images.
In the study, 15 first-year residents underwent a focused art interpretation session at the Yale Center for British Art (YCBA). After the session, their ability to identify an area of abnormality on 15 different radiographs improved significantly, shifting from an average score of 2.3 to 6.3 (JACR, August 22, 2017).
"Our study showed that our trainees' perception rapidly improved following the session at YCBA," corresponding author Dr. Rob Goodman, professor and acting chair of the department of radiology and biomedical imaging, told AuntMinnie.com. "This is incredibly important because lives depend on a radiologist's ability to perceive a lesion. If a session at an art gallery improves this, it is time well-spent."
The challenges of perception
Training radiologists involves developing skills in both perception and interpretation, according to Goodman and co-author Dr. Michael Kelleher. Interpretation skills are known to increase over time, as one learns and gathers knowledge; perception skills, on the other hand, seem to develop faster but are more of a mystery.
"We know quite a lot on how to interpret ... but very little on how to perceive," Goodman said. "There is one school of thought that you either 'have it' or you don't."
Past studies have shown, however, that teaching medical students how to view and describe paintings can lead to better observational skills. The researchers surmised that the benefits might also apply to radiology, so they set out to see if teaching residents to perceive findings in paintings would translate into better performance with images.
"Most errors in radiology occur due to failures of perception rather than failures to correctly interpret a finding, and, as such, it behooves the profession to ensure that perception training is adequately addressed as part of a radiology training curriculum," they wrote.
A day at the gallery
To test their idea, the researchers studied a group of 15 radiology residents on their first day of residency. The participants were each shown 15 radiographs with a significant abnormality, and they were asked to identify where on the image the abnormality was located.
Next, the residents underwent a lesson in art interpretation at the YCBA. They each examined one painting, writing down everything they could see in the work -- but focusing on perception, with no interpretation. The residents then presented their observations, with the teacher helping them to find any items they missed and to better describe what they'd observed. Only as a last step were they allowed to analyze what they'd seen and discuss the meaning of the painting.
Afterward, the residents were shown a new group of 15 radiographs, and they were asked once again to identify the location of the abnormality.
In terms of scoring, each correctly spotted abnormality was worth one point, for a maximum score of 15. The average score improved significantly after the art interpretation session.
Effect of art training on abnormality detection
Before training
After training
Mean score
2.3 out of 15
6.3 out of 15
No. of abnormalities correctly located
35 of 225
94 of 225
Difference in performance was statistically significant (p < 0.0001).
'Art made me smart'
The authors noted some study limitations, including the small number of participants and the lack of a control group. However, using new methods to teach perception early on in training could help residents, they concluded, perhaps even leaving them more time to study interpretation. And visiting an art gallery seems to be a good way to start.
"Teaching residents how to perceive in an art gallery is ideal because they do not yet have the radiology vocabulary with which to describe imaging findings," Goodman told AuntMinnie.com. "The beauty of this program is that anyone is able to describe findings buried within fine art paintings."
It was also less intimidating for residents to spend their first day at an art gallery versus a high-tech reading room, he said. Overall, the approach was considered a success, and they plan to use it routinely with first-year residents.
"One resident told me, 'I've never looked at one thing for so long. The more I looked, the more I kept seeing,' " Goodman said. "One other jokingly said, 'Art made me smart.' "