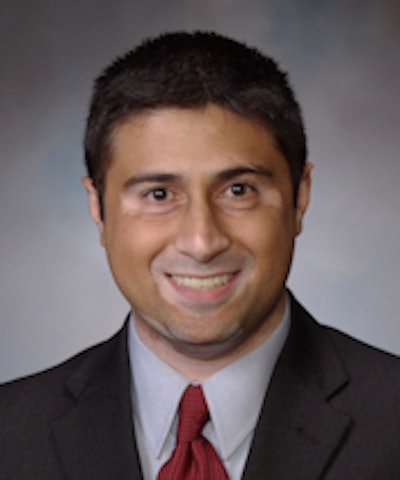 Should the current radiologist training schedule be changed from four years of residency to three and turn the fourth year of education into a fellowship? Such a structure might better reflect recent changes in radiology education and employment, according to an opinion published online in the Journal of the American College of Radiology.
Most radiology residents undergo a year of internship, four years of residency, and an additional year of fellowship training, lead author Dr. Tirath Patel of the University of Toledo Medical Center in Toledo, OH, told AuntMinnie.com. But there may be a more focused way to train radiologists.
"Over time, the radiology residency has lengthened, from three years to four," Patel said. "It's time to look at the whole picture and determine if these training years are being used most effectively."
General versus subspecialized
Debate over how to structure residency vacillates between two viewpoints representing one of the oldest debates in radiology: whether to emphasize generalized training or to focus on subspecialty skills, according to Patel and colleague Dr. McKinley Glover of Massachusetts General Hospital in Boston (JACR, March 31, 2015).
"There are a lot of great arguments on both sides," Patel said. "There's a need for highly specialized radiologists in academic settings, but there's also a need for general radiologists in smaller, nonacademic practices."
Changes to the radiology board certification process and the development of interventional radiology (IR) residencies suggest a re-evaluation of the structure of radiology training is in order, Patel and Glover wrote. In 2013, the American Board of Radiology (ABR) adjusted its certification process in such a way that residency programs have shifted core radiology rotations to the first three years, making way for more flexibility during the fourth year for residents to choose rotations specific to their interests, according to Patel.
"Many fourth-year radiology residents do these 'minifellowships,' and in a way that's a great idea," he said. "But there's too much variability in these selective rotations, both in how long they last and how much responsibility a resident has."
So what might be a more effective structure? Making the fourth year of residency a fellowship year, according to Patel and Glover.
"Formalizing the fourth year of radiology residency under the current model into a fellowship is a logical next step given the recent changes to the radiology board certification process, residency curricula, and IR training," they wrote.
Patel and Glover proposed two residency structures:
1+3+2: After the preliminary year and three years of general radiology training, fellows would undergo two years of intensive training in one subspecialty area. "This model would be ideal for a subspecialty academic career and could be beneficial for larger private practice groups," they wrote.

1+3+1 (+1): This model would allow for one- or two-year fellowships after the preliminary year and three years of general training -- or a structured, formalized general radiology fellowship in three or four specialties. It's a similar structure to general internal medicine fellowships, according to Patel and Glover. "These general fellowships could be desirable for trainees seeking to maintain a diverse skill set that is valued among smaller radiology practices," they wrote.
Obstacles?
Putting new residency models into place would bring some challenges, Patel said. One challenge would be that during the first year of implementation, two cohorts of radiology trainees would be applying to fellowships.
"During the year the transition was being made, there would be two classes searching for fellowships," Patel told AuntMinnie.com. "That could be a big problem, but with appropriate planning among, say, the American Board of Radiology, the Accreditation Council for Graduate Medical Education [ACGME], and the Association of University Radiologists, to name a few, it could be mitigated."
Another potential challenge could be reduced trainee availability for duties such as call coverage among residency programs, according to Patel and Glover.
"However, this would be a temporary challenge, as radiology departments could redistribute the call duties among the remaining trainees or fellows," they wrote.
Despite short-term challenges, shortening radiology residency to three years and formalizing the fourth year into a fellowship year is crucial to the specialty, Patel concluded.
"The current training system isn't as great as it could be," he said. "What we're proposing may seem like a wild idea, but there are good arguments for these models. We hope the ABR, the Association of University Radiologists, the American College of Radiology, and the ACGME Residency Review Committee for Radiology will study the issue."