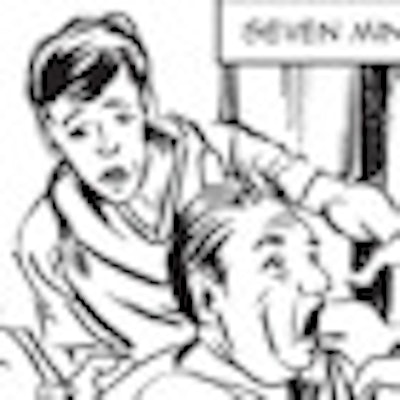 The practice of medicine is typically no laughing matter. But a doctor from Pennsylvania has found that medical training can be improved through one of the lighter forms of popular culture: comic books.
Dr. Michael Green and illustrator Ray Rieck recently published "Missed It" in the March 5 issue of Annals of Internal Medicine (Vol. 158:5, part 1, pp. 357-361). The five-page saga tells the nightmarish tale of a resident who is woken up on night call to deal with what seems to be a routine case of chronic obstructive pulmonary disease. But is that all that's going on with the patient?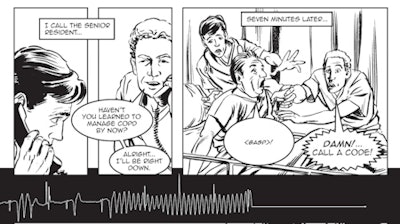 From Green and Rieck's "Missed It." Image courtesy of Annals of Internal Medicine.
Green, who is a professor of medicine and humanities at Penn State College of Medicine, spoke with AuntMinnie.com about what brought him into the world of comics to tell tales so harrowing that residents and medical students are likely to remember them.
The story is graphic and realistic because it actually happened to him during his residency in the early 1990s, Green said.
"It was a very difficult situation, and it happened a long time ago, but it kind of haunted me for a long time, and I knew it was something I wanted to write about at some point," he said.
Once Green actually finished writing the story, he became interested in comics as a medium, and the comic published last month is the result of that effort. The images were drawn by graphic illustrator Ray Rieck.
Doctors tell a lot of stories, and comics are just another medium to do so, Green said. By using both words and images the message can be enhanced, and the emotional aspects of the story can be communicated.
"Comics show; they don't just tell," he said. "That's one of the strengths, and comics can communicate in a very economical way."
They can communicate volumes -- emotions, relationships, and resentments, all in a small 3 x 3-inch panel. And, of course, the characters can be saying one thing and thinking something else, he said. Authors can convey a complex mixture of happiness and anger in that small panel.
"It's a powerful way to communicate a lot of complicated ideas," Green said. "Drawing adds so much richness to description."
For the past few years Green has been teaching a course at Penn State in which medical students read graphic novels and create their own comics to describe their experiences.
The University of Manchester in the U.K. also is using comics in medicine; the idea is catching on because students love it, he said.
The upcoming Conference on Comics and Medicine planned for July 5-7 in Brighton, U.K., will help spread the word, Green said.