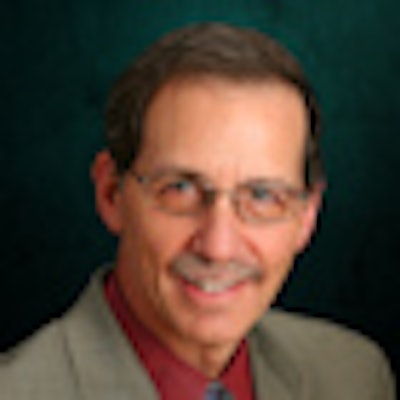 AuntMinnie.com is pleased to present the next installment of Leaders in Imaging, a series of interviews with individuals who are shaping the radiology landscape. We spoke with Dr. Gary Becker, executive director of the American Board of Radiology (ABR), who discussed exam integrity and the future of radiology board certification.
AuntMinnie: Why has the ABR felt the need to publicly emphasize its focus on exam integrity?
Becker: The American Board of Radiology's mission is to demonstrate to the public that our diplomates have met the requirements for knowledge, skill, and understanding in diagnostic radiology and radiation oncology. Built into that is an obligation that when we use an instrument to make an assessment, there's integrity in that instrument. We can't afford to have a situation where our tests are stolen or otherwise compromised and the material memorized. That just doesn't do what we intend the exam to do.
Have there been breaches of exam integrity recently? What kind?
You probably know about the case last year with Dr. Rajender Arora and the American Board of Internal Medicine (ABIM). [Last July, the ABIM settled a suit with Arora Board Review that claimed the test prep company "illegally obtained and disseminated copyrighted test questions" for use in Arora's course.] That was a huge enterprise -- Arora collected reams of original ABIM material and used incentives to get diplomates or residents in training to come up with content.
We've had a similar experience at ABR, although not as high profile, and ours is not a commercial enterprise. For decades, there has been [test] item sharing in U.S. diagnostic radiology training programs, most prominently with the qualifying exams, the written test that covers the physics of diagnostic radiology and clinical knowledge.
We've seen a huge increase in technological means of sharing recalled exam information, so that what was once more isolated to individual programs is now easy to share on a larger scale. A dramatic example of the impact of item exposure is the difference between the qualifying exam given in September and the conditioned exam given in January, which, because it has to be a different exam, has tended to use older exam items: People who failed six months earlier come back and blow the conditioned exam out of the water.
ABR is planning to discontinue its qualifying and oral diagnostic radiology examinations, and in their place, it will implement new computer-based diagnostic radiology initial certification exams. When will this happen?
We had a pilot exam in May in Louisville, KY, that we used to test the material we're building for the new computerized core exam, which will be given for the first time in October 2013. We set up 90 computer stations and held 24 sessions for candidates to use if they felt they were not going to perform in an oral exam category as well as they would like.
So we'll be rolling out these computerized core exams in 2013, and they will replace the qualifying exam. We're changing the timeline, too: Candidates will take the computerized core exam after 36 months of training. It will be the primary way we examine diagnostic radiology skills across the breadth of the field. Then candidates will take the certifying exam 15 months after their training is over, rather than during the fourth year.
The computerized exam will level the playing field and allow us to build questions that test clinical reasoning at a higher level of analysis and management.
Why is the ABR discontinuing the oral exams?
Oral exams are extremely labor intensive and have inherent limitations. We're trying to measure how effectively people will perform in practice. But the oral exam takes individuals from room to room by category, so that they know the topic they're going to be tested on -- quite unlike real practice life, when you're pulling up a case on your workstation. Because of the time constraints of an oral exam, we can only present a limited amount of case material and, thus, can't test the entire knowledge domain. The oral exam has become less and less like practice.
That being said, we will have oral exams going through 2014, with the last one in November. Actually, it's likely there will even be a few holdovers in the examination process still taking oral examinations in 2015.
What kind of sanctions affecting certification would the board take in response to breaches in exam integrity?
In Louisville, we had a video lead for each of the exam sessions that outlines the consequences of giving or receiving exam information. The consequences could range from a letter of warning and concern, to a cease-and-desist letter, to invalidation of exam results or denial of admission to ABR exams for a period of time, or even notification of the individual's program director, department chair, or the state licensing board.
This last option is an important one, even for people who aren't yet certified -- the purpose being to establish a pattern. After all, the best predictor of cheating is previous cheating. Finally, an individual could be judged unacceptable for certification, or legal action could be taken in the event of a copyright violation.