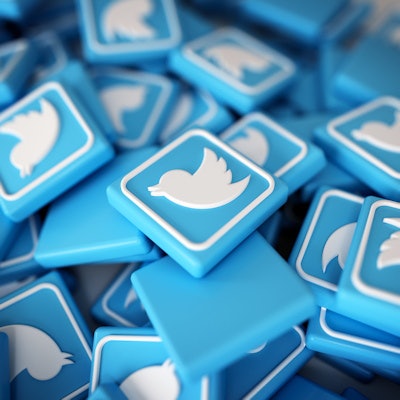 The COVID-19 pandemic sparked substantial increases in views and engagement on Twitter, according to research published December 1 in the American Journal of Neuroradiology.
A team led by Dr. Nicholas Koontz from Indiana University found in their analysis of a Twitter campaign by the American Society of Head and Neck Radiology (ASHNR) that the average number of impressions (i.e., the number of people who view posts, but don't necessarily interact with them) and engagements (when Twitter users interact with content published on social media) increased by over 1.5 times. Also, average case engagement increased by nearly three times between 2018 and 2021.
"Despite logistic and social challenges posed by COVID-19, ASHNR engaged learners during the pandemic ... which significantly increased viewership and learner engagement during the pandemic," Koontz's team wrote.
Social media has become a mainstay in everyday life, with radiologists also using various platforms to promote their work, give advice, and promote education. In medical education, the onset of the COVID-19 pandemic led to educators switching to remote learning.
The investigators highlighted the benefits of social media, including rapid dissemination of educational materials, low to no overhead costs, lack of geographic boundaries, and ease of cross-institutional and multidisciplinary collaboration, among others.
The group described how, in 2018, ASHNR launched a social media marketing campaign that consisted of a weekly case-based education initiative that posted cases on Twitter. The campaign is called the ASHNR Case of the Week and uses the hashtag #ASHNRCOTW.
Koontz and colleagues assessed the initiative's viewership and engagement trends during its first three years of existence, comparing such trends before and during the pandemic. They also looked at how Twitter users engaged with case questions posted by the society, including when it came to interacting with posts to solve cases.
The researchers found that #ASHNRCOTW had high visibility before the pandemic, recording 2,082,280 impressions and 203,137 engagements. But there were significant increases in both areas during the pandemic.
Comparison between prepandemic and pandemic social media trends for #ASHNRCOTW
Measure
Prepandemic
During pandemic
Average case impressions per day
6,346
9,917
Average case engagements per day
474
1,305
Case engagement rates
7.76%
13.06%
Average answer impressions
5,556
8,760
Average answer engagements
436
908
Answer engagement rates
7.87%
10.38%
The team found a significant increase in average monthly new followers after the hashtag was first used, 134 versus six (p = 0.001), and a significant increase in average monthly new followers after the pandemic started, 178 versus 101 (p = 0.003).
The authors attributed the increases in impressions and engagement in part to GIF images, which participants were invited to use when they submitted answers to cases.
"GIF images offer a lighthearted and often comical vehicle for approaching learning, which adds to the enjoyment of participation," they noted. "This unique interactive edutainment allows participants to make connections they might not otherwise contemplate between the unknown cases and their answers using GIF images, fostering interactivity and potentially increasing the knowledge retention and understanding of complex head and neck anatomy and pathology."