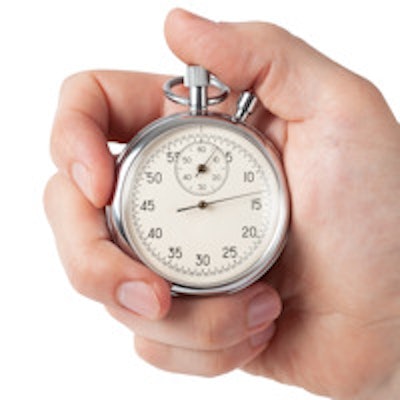 A Texas hospital was able to cut radiologic technologist response time to 10 minutes for orders for stat mobile x-ray exams from the facility's medical intensive care unit (ICU), according to a September 29 article in the Journal of the American College of Radiology.
Implementing a series of improvements that included workflow changes, an equipment upgrade, and -- perhaps most importantly -- changes in ordering patterns by ICU physicians enabled the radiology department at Memorial Hermann-Texas Medical Center in Houston to reduce technologist response times from over 45 minutes to 10 minutes.
The changes have improved morale and job satisfaction among technologists and radiologists, even as they are delivering better service to ICU physicians, according to lead author Dr. Susanna Spence.
An unexpected discovery
Spence came across the problem of long radiologic technologist (RT) response times almost by accident. She was speaking with the medical ICU's attending physician, study co-author Dr. Bela Patel, about another issue when the problem came up.
"She said, 'What's really a problem for us is this turnaround thing,' " Spence told AuntMinnie.com. "She would order a stat radiograph, and she had no idea when the technologist would arrive."
After reviewing the hospital's RIS, Spence discovered that there was indeed significant variability with respect to how long it took technologists to arrive at the patient's bedside for stat mobile radiographs. But most orders were being responded to in about 47 minutes.
"For a stat radiograph, we figured a one-hour turnaround wasn't too bad," Spence said. "I told her it was less than an hour, and she was not impressed."
What number would be acceptable to the medical ICU? They said that a 15-minute response time would be ideal -- and they didn't just want an average of 15 minutes, they wanted all stat radiographs to be responded to in less than a quarter-hour.
With their work cut out for them, Spence and colleagues began to investigate how to make this happen. They first analyzed the types of orders for stat radiographs coming from the medical ICU, and they learned that various ICU physicians seemed to have very different ideas of what a "stat" order really was.
While clinicians agreed that, philosophically, stat orders should be rare, occurring no more than three or four times a day, in reality the term was being used much more often, even for exams that weren't needed until the next day. After analyzing RIS data for a 12-month baseline period, Spence et al found that one clinician had placed only one stat order during the entire year, while another had made 103 stat orders during a one-month rotation (JACR, September 29, 2015).
Spence originally tried to change the ordering patterns for medical ICU physicians by meeting personally with residents and fellows in the department and informing them that they should use the term "stat" judiciously, but little changed. She found better success after recruiting the medical ICU's attending physician: At the beginning of each rotation for residents and fellows, the attending would pull them into a meeting with Spence and reaffirm the new policy for ordering stat radiographs.
Equipment and workflow changes
Next up was a technology upgrade. Spence and co-authors had found that the battery life on portable x-ray machines being used in the ICU was "dismal"; they only acquired 12 to 14 images before requiring a recharge, which resulted in a lengthy shutdown and boot-up process. Data on the long response times and workflow effects were presented to hospital administration, and soon nine new portable x-ray systems were acquired for use throughout the hospital.
Finally, the workflow of the technologists was changed. In talking to RTs, the researchers discovered there were frequent communication breakdowns in how stat orders were conveyed to technologists. ICU physicians ordering stat studies either had to page the technologist personally or request that another staff member page him or her. This resulted in delays in conveying stat orders to technologists -- in some cases, technologists who had been out on the floor helping other RTs never even learned of orders until they returned to the department's computer and discovered them on the worklist, losing precious time.
The researchers replaced this system with a more automated protocol. They had Memorial Hermann's IT department write code for its electronic medical record (EMR) to automatically send a page to the technologist pager whenever a stat order is placed (the department's pagers had to be upgraded to display letters in addition to just numbers, Spence noted).
Spence and colleagues then analyzed response times after each of the changes were implemented, tracking them by each phase of intervention -- ordering protocol, equipment upgrade, and paging procedures. They found that median turnaround time fell from 49 minutes to 10 minutes -- a big improvement.
Median RT turnaround time for stat radiographs, by intervention phase
Intervention phase
Response time in min:sec
Before intervention
49:21
Phase 1: Change to stat ordering protocol
30:08
Phase 2: Equipment upgrade
17:51
Phase 3: Change in paging protocol
10:08
While RT response time dropped dramatically, did the researchers achieve the original challenge of responding to all stat orders in less than 15 minutes? Not quite, Spence said, but the 15-minute mark has become a goal for the department, which now tracks the percent of stat orders that meet the target.
Since the data were collected, Spence has handed off to the medical ICU's charge nurse the chore of educating new residents and fellows about the proper protocol for ordering stat studies; orientations are held monthly, with the arrival of each new rotation. The program is in the process of being rolled out to other departments at Memorial Hermann.
It might seem that the 15-minute threshold would put additional stress on technologists, but Spence said that hasn't been the case. Instead, the new program has improved their morale by reducing a major point of conflict between radiology and the medical ICU. The technologists have a new machine to work with, and thanks to the new paging system, they aren't tied to computers.
And most importantly, they are getting fewer stat orders -- and they are able to respond more rapidly to the ones they do get.
"It's improving relations between everyone," Spence said of the program. "It's very stressful to arrive at the patient's bedside 40 minutes after the stat was called and everyone is stressed out."