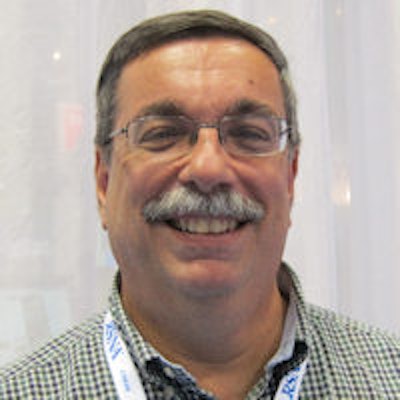 CHICAGO - While I walked the floors of RSNA 2015 this year, I had to wonder if I was at the RSNA meeting or a Three Dog Night reunion concert. So many of their late 60s/early 70s songs swirled through my head that I just had to smile.
Booths referencing the number one in a variety of ways were plentiful, so much so that the song "One" (is the loneliest number) kept popping up time and time again (even though we all know "two can be as bad as one").
I tried to "Try a Little Tenderness" even though it's "Easy to be Hard" (I always wondered why Pfizer never used this classic in its little blue pill commercials). I sang out "Liar" more than a few times, especially to vendors that claimed to have interfaces to electronic health records (EHRs) but had never interfaced to either Epic or Cerner, both of which control close to 85% of the EHR market.
I told several others "Don't Make Promises" when their reality was light years from their marketing dreams. Indeed, this "One Man Band" asked myself more often than not if I should be singing "Joy to the World" or "Mamma Told Me Not to Come" this year. Still, "The Show Must Go On" as I trudged an average of seven miles a day looking for a reason to "Celebrate" my "Old Fashioned Love Song" with all things PACS.
So what was new? There are more PACS vendors for sure. I would venture to say that at least 70% of the vendors at RSNA 2015 had something PACS or PACS-related. It's just a matter of time before former PACSman award winner Ernie's Welding and Fabricating becomes Ernie's Pipes and PACS.
Even though we have had some market consolidation with high-profile mergers and acquisitions, for every one vendor that gets gobbled up, it seems like four new vendors appear. How many of the newbies will be here next year is anyone's guess, but if history repeats itself and 10% remain, it's a lot.
There seemed to be a resurgence of RIS products from smaller vendors. These all but disappeared from the map in years past. While many of the major vendors have phased out their RIS offerings recently, smaller vendors have just as quickly risen to the challenge in offering new products. This could be related to the need to prestage data from a vendor-neutral archive (VNA) or the recognition that true RIS offerings in most EHRs are woefully inadequate.
The market for data migration services has also shown considerable expansion, with several new vendors entering a domain that belonged to a handful or so in the past. Getting PACS vendors to cooperate with these service providers is another story since many vendors consider their databases proprietary and off limits, and their successes remain to be seen.
Medical image sharing is still of great interest. It seems like nearly all the majors have embraced image sharing in one form or another and are offering it in their core offerings, though there still remains a limited need for CDs and even paper prints. The image sharing market has traditionally been the domain of the independents who offer a more robust and full-featured product than that typically incorporated into PACS.
I was surprised to see so little discussion about data analytics. That, in my opinion, is going to be crucial to the success of healthcare reform and in departments optimizing their overall operation. Understanding the radiology department operation fully and taking the necessary steps to improve it by using data to refine processes is key here, and data analytics plays a huge role.
Digital pathology was shown in several booths and is becoming the Great White Hope for major vendors hoping it will become their newest profit centers. With year-to-year PACS sales flat or with minimal growth at best, the medical imaging marketplace needs something to help stimulate sales. Digital pathology is that something.
Universal viewers were in nearly every booth, signaling the slow demise of Web-based viewing along with dedicated PACS workstations. Like CDs in the image sharing market, there will still be a limited need for these other viewing options in limited applications. That said, zero footprint viewers are gaining in popularity quickly for a host of reasons, not the least of which is support.
There was quite a bit of discussion relating to the digital radiography (DR) marketplace with new systems offering significant reductions in radiation dose and lower pricing due to competition. This is driving widespread acceptance and implementation of this film-replacement technology.
Piggybacking on DR's acceptance was dose management software. Initially designed for CT only, the newer packages can address a broader spectrum of modalities and help a facility meet dose management guidelines that are being more widely mandated nationwide.
Cloud-based technology was all over the board. Interestingly, very few vendors are using the cloud as their primary storage medium, instead employing it as a secondary archive storage platform for disaster recovery.
There seems to be increased interest in using virtualized servers and other off-premise devices, although most using the cloud still opt to have a local server with limited cache to address any performance concerns. Image streaming is also almost universally utilized to address latency issues. Both public and private data centers are being used depending on the vendor and often combinations of both as well.
I was very disturbed by being presented with a "pay for play, you scratch my back and I'll scratch yours" offer by more than one vendor this year. In this scenario, a vendor sends a potential client to a consultant for help. The client contracts with the consultant to help them through the evaluation process. In return for helping them secure the contract, the consultant then helps secure the deal for the vendor, or at the very least gets and keeps them in the deal until the decision is made.
Integrity here goes out the window, followed quickly by objectivity and accountability. Understand that a three dog night is an Australian aboriginal custom in which one sleeps with his dogs for warmth when the temperature dips. The colder the night, the more dogs. A three dog night, then, is a very cold one. But my mom always said if you lie down with the dogs, you wake up with fleas.
Such arrangements are not something I have or ever would consider doing in my 30 years in the business. It will be a cold day in hell before I did either. That said, I am directly appealing to those who have taken this approach to securing business to please reconsider their actions. To protect the interests of end users, I offer "independent contractor" language for free that you can include in your contacts. I have used this from day 1 and feel strongly that it should be in every consulting and vendor contract. Feel free to contact me for it.
This was a tough year for the PACSman Awards. Yes, there was still some abysmal marketing out on the floor of RSNA 2015 -- there always will be -- but vendors are getting slightly better at playing the game. In no short order, here are this year's winners.
The Isaac Asimov Award
To the company that wanted the world to know that they have demonstrated 75 years of endless innovation by showing products that have absolutely no correlation to healthcare. Know that if I ever need a planetarium for my hospital, though, you will be the first company I contact.
The Bucket List Award
Right up there with winning an Olympic Gold Medal and Nobel Peace Prize, climbing Mount Everest, and having lunch with the Dalai Lama is -- now wait for it -- seamless workflow. Ah, umm ... no. It's time to cremate this idea and put it in a Chock-Full-of-Nuts can and carry it up the mountain where it can never be resurrected again. Even if I do get a free gift for mentioning the ad.
Quick question: I had dinner with Dr. Dalai -- can I check off No. 1 on my list for that?
The Village People Award
To the fine folks who handled the RSNA housing. As of nine days ago, they still hadn't told me what hotel I was at. Fearing the worst, I YouTubed the dance and lyrics to the song "YMCA" so I wouldn't embarrass myself. "Young man, there's no need to feel down. I said, young man, pick yourself off the ground. It's fun to stay at the YMCA!"
The Saturday Night Live Award
To the RSNA floor police who tried to stop one of my AuntMinnie.com counterparts from taking a photo of a presentation when the rules clearly stated he could. He ended up prevailing in the end, even though he wound up missing most of the talk he was covering. True to form, he was the consummate professional. Were it me, however, I would have started the conversation with, "Jane, you ignorant ..."
The "Right Message, Wrong Show" Award
To the company that talked about "The Future of Healthcare IT" -- at a show where 95% plus of the attendees are radiology-centric and could really care less what IT thinks or does. Ummmm, please take note. HIMSS is in March in Las Vegas. IT is important there -- just not here.
The Environmentally Friendly Award
I am a strong believer in "Reduce, Reuse, and Recycle," but I see so many of the same people wearing different company badges year after year that it's not funny. Stay put, will ya?
The Booth Babes Award
I saw a dual-energy x-ray absorptiometry (DEXA) machine that looked like a foosball table. Can you say boring! Now, with a booth babe it would have been so much more interesting, so bring 'em back, please.
The Back to Basics Award
To the company that had pencils -- yes, pencils -- in its booth as giveaways. Brilliant messaging, even if it was unintentional. I have no idea what the hell I am going to do with an unsharpened pencil, though. I guess next year we get the sharpeners.
The Prooper Speling Award
If you can't spell "warranty" properly (hint: it's not "warrenty"), then how good can your warranty really be?
The Proper Use of Acronyms Award
Question: Is your company really in PACS when you call it a Pacs in the company name? I see that often with DICOM as well (spelled Dicom), but thankfully there were no HIPPAs or HIPPOs that I saw this year.
The Sumo Award
Each year, this company shows sumo wrestling, with basically 30 minutes of preparation for 30 seconds of real "action." I picked up some really good tips for my love life from them this year. I guess I need to throw some extra rice and squat a little lower before I engage in battle then next time I get "in the ring."
The Oh God Award
To the company whose acronym for their Digital Instrument Operating System means God in Spanish. Dios Mio!!!
The Hot Products Awards
I love first-time RSNA exhibitor X-Ray Artistry's gifts and signs that use medical images to form words and such. And the legacy massager loungers from Daiwa were downright decadent. Borrowing a line from Will Smith in the movie "Independence Day": "I gotta get me one of these." The 3D printers and viewers were also very, very cool, too.
And finally, it is with sadness that I am no longer able to sing "Eli's Coming." Eli Rapaich from Lexmark (formerly of PACSGear, Stentor, and Cemax-Icon fame, plus a few others before then) is making his RSNA farewell tour and retiring after this show. I thought for sure I saw him holding one of those "End of the Line" bus signs this year. Just remember the lyrics my friend: "Walk but you'll never get away. No, you'll never get away from the burnin' a-heartache. Godspeed, Eli.
I am looking forward to getting back to my four miles a day in the gym while watching "Judge Judy," "American Pickers," or ESPN, and not having to discern what is real and what is not among vendors while making the daily Bataan Death march on blue carpet. Maybe I can steal some leftover rice from the Sumo wrestlers to help sustain me. Ah, the simpler things of life.