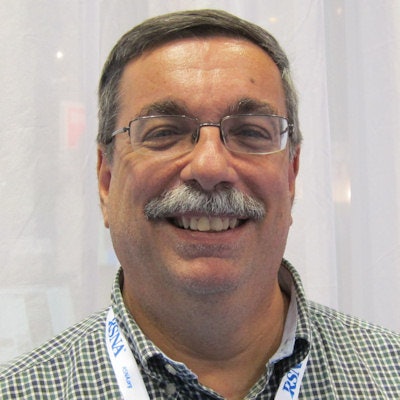 CHICAGO - In the song "I'm Henry the Eighth, I am," Herman's Hermits sang "Second verse, same as the first," and that is how I felt walking the floors of RSNA again this year. Second verse, same as the first -- just lots more of it relating to artificial intelligence (AI).
It seemed like every vendor exhibiting at RSNA 2018 had an AI offering or was AI-aided, AI-empowered, or whatever adjective you wish to use on the back end, as long as AI was on the front end. A high percentage of those were works-in-progress, including many of those in the Machine Learning Showcase. I had so much smoke coming from my nether regions that many people thought I was on fire.
Several wanted me to stop, drop, and roll, while a few others watched, hoping the flames would fan themselves so they could finally be free of the PACSman's sarcasm. 'Twas not to be, though. My body would not join the pyre of companies moving down the river Ganges in a great big pile. Instead, it was just the remnants of vendors blowing smoke as they promoted their products in the most creative ways possible.
I was very disappointed not to see the words "AI-designed" in the booth of the vendor offering medical-grade casters (although I have been assured this oversight will be corrected next year), or even the words "AI-influenced" in the booth of former PACSman Award winner Ernie's Welding and Fabricating. After all, quench vents and AI have to be related somehow, right?
Another vendor had a 20-ft sign touting AI, but when you asked them about AI you were rewarded with a blank stare. Real System Not Available, indeed.
From a PACS standpoint, there really was nothing that floated anyone's boat besides the usual upgrades and perhaps expansion into new markets. These included addressing the needs of radiology groups that want to expand their business without competing against the major teleradiology practices.
The independent PACS providers have shown consistent growth, both in market presence and booth size. While the majors sang Tears for Fears' "Everybody Wants to Rule the World" in the past, many of these same vendors are now joining our North Korean Rocket Man buddy singing, "And I think it's gonna be a long long time 'til touchdown brings me round again to find I'm not the man they think I am at home."
Don't get me wrong: The majors still offer viable solutions, but the days of a slam dunk deal because "nobody even got fired for buying ..." are long gone. There are a number of new vendors in the electronic imaging systems (EIS, formerly known as PACS) space, and because of market changes, they now stand a much better chance of succeeding.
Vendor-neutral archives (VNAs) were lauded with great hype in years past and offered great potential as well. Sadly, a combination of the market's failure to clearly define and differentiate one VNA from another and the failure of VNAs to work as promoted contributed to slower-than-expected growth in this market sector. Many VNA sales today are replacements for those that failed to meet the initial promises or the expectations that were promoted (which were not properly managed either). The VNA market is still viable and growing but at a much slower pace than expected.
One of the biggest challenges for PACS is finding available capital to fund upgrades, updates, or replacement systems. Many sites are in the process of purchasing or have started implementing electronic health record (EHR) systems. These require every available cent of capital facility-wide to help fund the installation.
Very few facilities properly projected how long an EHR system would take to implement or how expensive the implementation would be, especially if using third-party services. Because an EHR go-live can be a career-changing project for a chief information officer or chief technology officer, these take priority over any PACS upgrade or replacement.
The feeling for most existing clinical systems is if it works, then keep it working a bit longer. This is why more than half of the PACS in use today have reached the end of their useful life but still chug along, playing the little engine that could. In the meantime, vendors pull their hair out trying to support systems that were never designed for what they now need to do -- and, sadly, will still need to do until the all-clear is signaled with the EHR somewhere down the road.
Each year I pull my own hair out in amazement at some of what I see at RSNA. So, without further ado, I give you the 2018 PACSman Awards.
The Silence of the Lambs Award
To the provider of those super comfy white fluffy chairs that are near the entrances to the North and South halls. Call me the sick puppy I am, but they reminded me of a lamb that has been freshly shorn with its skin stretched over the chair. All that is missing is a nice Chianti and some fava beans.
The Riverdance Award
To the vendor that decided to replace the carpets it had in years past with hardwood floors. Rumor has it the vendor was going to have its employees tap dance to attract crowds, but the marketing budget wouldn't support Michael Flatley teaching the steps and the women objected to putting taps on their Jimmy Choo shoes. Maybe next year.
The Butch Cassidy Award
To the first-time exhibitor that made its RSNA debut with a booth bigger than almost everyone else's at the show. The words I heard from so many people the first two days were reminiscent of the words spoken by Butch when he and Sundance were being relentlessly pursued by the Bolivian army: "Who are those guys?"
The Mork From Planet Ork Award
To the manufacturer of a really cool baby MRI scanner that coincidentally looks like something that landed here from an alien planet.
The I Love Researchers Award
To one of the 10 teams that won the RSNA's Pneumonia Detection Challenge. The team was called the DancingBears.
The If You Ain't First, You're Last Award
To the company that claimed it was the winner of the RSNA Pneumonia Detection Challenge, even though it was just one of 10 winners (and came in seventh place, at that).
The Peter Principle Award
To all those executives who couldn't make it with their former companies, jumped ship, and were rewarded with senior-level management positions in another company so they could screw that one up too. For those who aren't familiar with it, the Peter Principle states that every employee rises in the corporate hierarchy until they reach the level of their incompetence. I know several at RSNA 2018 who fit the bill, and I'm sure you do too.
The Environmentally Friendly Award
To the vendor that tried to do the right thing by giving out metal straws, but when you looked at it you wondered if it may have other uses, including as a catheter or as a transport device for certain South American exports.
The Scotty Give Me Full Power! Award
To the vendor with the following slogan: "When every photon counts, patients benefit." Phasers on stun. Mr. Chekov, status please ...
Speaking of all things Trekkie, when you blow up a photo, you tend to exaggerate certain body features. Mr. Spock would be quite proud of the vendor whose photo showed a guy with Vulcan-looking ears giving a hand gesture that was not quite the Vulcan salute, but somewhat close. Live long and prosper.
The God Is On Our Side Award
To the company that still uses God's name in Spanish commercially for its product line. Someone needs to tell them God speaks lots of languages and is still waiting on His residual check.
The Apostrophe Award
To the company that had the word "PAC's" in its booth. Silly rabbit! Everyone knows the plural of PACS is PACSes.
The New Meaning of First Award
To the company that claimed to be "the first truly distributed enterprise radiology platform," but interestingly enough didn't get its U.S. Food and Drug Administration 510(k) clearance until 2017 and CE Mark until 2018. I think others may have you beat being the first here -- just slightly.
The Orange Is the New Black Award
To all the vendors using orange in their booths at RSNA 2018. Personally, I like the TV show better than the booth design, but the orange color reminded me of oranges and home in Florida, where it is at least 50° warmer so all is good.
The Road Less Traveled Award
And finally, the company that had me more confused than I already am with this lost-in-translation slogan: "We focus on the market promotion along The Belt and The Road and take the opportunity to perfect gradually the globalization for the whole world markets."
If someone can tell me what this really means, you get a free one-year subscription to AuntMinnie.com and a belt for the road as well. Just consider it antifreeze.
See you next year!
Michael J. Cannavo is known industry-wide as the PACSman. After several decades as an independent PACS consultant, he worked as both a strategic accounts manager and solutions architect with two major PACS vendors. He has now made it back safely from the dark side and is sharing his observations.
His healthcare consulting services for end users include PACS optimization services, system upgrade and proposal reviews, contract reviews, and other areas. The PACSman is also working with imaging and IT vendors developing market-focused messaging as well as sales training programs. He can be reached at pacsman@ix.netcom.com or by phone at 407-359-0191.
The comments and observations expressed are those of the author and do not necessarily reflect the opinions of AuntMinnie.com.