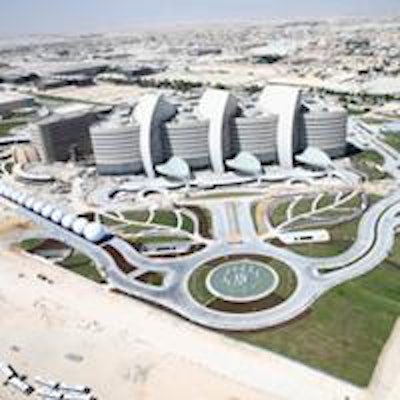 Western radiologists who want to raise their visibility to patients and referring physicians would do well to look east -- specifically, the Middle East. A new hospital set to open in Qatar in 2015 hopes to change the traditional department-based radiology model by embedding radiologists directly in clinical areas.
Sidra Medical and Research Center in Doha will be an all-digital academic hospital for women and children. Behind the hospital is a radical new idea: Radiologists should be deeply integrated with other physicians as members of clinical care teams, and medical imaging functions should be distributed throughout the 400-bed hospital to provide what may be considered point-of-care radiology, said Dr. Deepak Kaura, clinical chief of radiology.
Imaging services will be dispersed across multiple areas, including outpatient and inpatient centers on the main floor of the hospital. There will also be an interventional suite in the operating room with four interventional imaging units and an intraoperative MRI system, along with an MRI scanner on the third floor. In addition, there will be more than 100 ultrasound scanners throughout the hospital, as well as portable radiography and a host of other x-ray systems, one of which will be in the emergency department, Kaura said.
In contrast to the traditional radiology paradigm of a referring physician ordering an exam and a radiologist independently reading the study, Sidra expects that its radiologists will participate in the clinical delivery of healthcare. The radiology department -- and, specifically, the radiologists -- will be dispersed into the different clinical areas, serving as part of core clinical teams in the orthopedic clinic, urology clinic, general pediatrics clinic, ob/gyn clinic, and other areas.
"I envision the radiologists sitting next to clinicians in real-time clinical environments," Kaura told AuntMinnie.com. "The support from our referring physician population has been unanimously ecstatic. They are very, very happy to have our radiologists come and sit with them in the clinics and provide the service hand in hand. The goal is real-time reporting and real-time consultation, so [radiologists] become more relevant."
This embedded model also facilitates a learning environment in which "[referring physicians] feel that we come and help them learn about their patients and the disease their patients have," Kaura said. Also, "patients can learn about their disease, but equally important, we can also learn from our clinical counterparts."
Imaging equipment and informatics
This approach will be aided by Sidra's focus on informatics. The institution will use a RIS from Cerner, a PACS from Philips Healthcare, and a vendor-neutral archive (VNA) from Mach7 Technologies for managing radiology and nonradiology images. An upcoming upgrade to the VNA will add the ability to aggregate and share imaging, video, and pathology results from the patient, Kaura said.
"We've already built a Google Glass interface into the vendor-neutral archive, so that when a clinician takes a video of, say, a gait abnormality in a child, with Glass they can immediately upload to the VNA, and we can combine that with the imaging and start creating interesting data elements that can be used for research, teaching, assessments of quality, etc." he said. "So there are lots of opportunities when you can integrate that data into a VNA."
Furthermore, the department's Center for Medical Imaging Science and Technology (CMIST) will focus on three research areas: integrated medicine, population health, and translational science, said Dr. Homer Pien, division chief for imaging science and technology and former chief technology officer of Philips Healthcare.
Three research projects are currently underway, exploring the use of wearable electronics and augmented reality, 3D printing of clinical models, and metabolite imaging. In collaboration with the Qatar Computing Research Institute (QCRI), Sidra's Center for Wearable Electronics and Augmented Reality (C-WEAR) aims to use wearable technologies such as Google Glass to revolutionize clinical workflows, according to Kaura.
Imaging systems
Sidra has already installed a full complement of imaging equipment:
117 ultrasound systems from GE Healthcare
Three CT scanners from Siemens Healthcare
One 256-slice Philips iCT interventional CT scanner
Three angiography suites (two cardiac suites and one interventional suite) from Philips
One biplane interventional suite from Siemens
Four Philips MR scanners, including three 3-tesla Ingenia scanners and one 1.5-tesla scanner with high-frequency ultrasound (HIFU) capability
One Siemens Verio 3-tesla MR scanner
Eight radiography rooms from Philips
Sidra has also purchased a number of portable radiography systems from Philips and installed 11 of the company's Ambient Experience design suites. The institution is also working with Philips on a significantly enhanced version of Ambient Experience.
"We're going to be profiling a brand new type of pediatric experience in a radiology department, incorporating some of the ambient technology as well as other pieces of creative design and creative workflow design that I think will pioneer the way patients will find their way through a radiology department," Kaura said.
The institution will also use PowerScribe 360 (Nuance Communications) speech recognition software. Sidra has not yet decided on an advanced visualization vendor, Kaura said. He noted that analytics will also be an active area of interest for Sidra.
Current status and future plans
The radiology department has a planned staffing level of 32 full-time equivalent radiologists, and 22 of these will likely be pediatric radiologists. Five adult radiologists and five interventional radiologists will round out the team. At this point, 18 have committed to join the department, with 10 already in place. Technologists are also being recruited from Europe, North America, and Australia.
Looking ahead past next year's hospital opening, the department will focus on a number of research areas, including developing the use of computing in radiology, Kaura said. Molecular imaging will also be an active area, and the institution is looking into acquiring a PET/MR scanner.
In addition, the institution will actively pursue noninvasive therapies such as high-intensity focused ultrasound.
"HIFU is going to change this world, particularly in the therapeutics arena," he said. "That's why we've invested in buying the HIFU and are looking at novel ways to use that. We're building a significant research program around that."