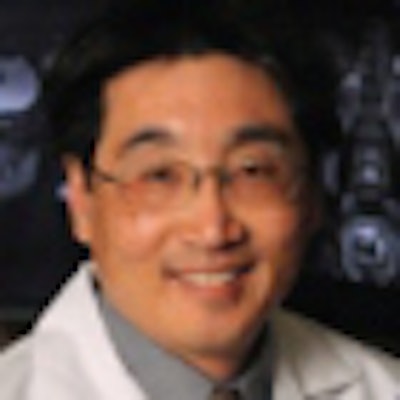 SAN FRANCISCO - Dashboards and scorecards providing tangible measures of performance can serve as a potent defense for radiologists against forces that are attempting to loosen their control over medical imaging, according to PACS pioneer Dr. Paul Chang.
The shift from fee-for-service healthcare to payment models geared to quality and meaningful use poses threats unless radiologists learn to manage medical imaging, Chang explained on Saturday at the joint 2012 California Radiological Society (CRS) annual meeting.
"We are not going to survive as radiologists by merely reading films," he said. "We must manage imaging."
Radiologists such as Chang played pivotal roles in the development of PACS, a set of technologies that led to all-digital diagnostic imaging and huge improvements in workflow and throughput. Now, radiologists have an opportunity to add business intelligence and analytics (BIA) to the mix, he said.
"Our real goal now is to provide measurable improvement in efficiency, productivity, and outcomes," he said. "Our mission and our vision have to in some way translate into measurable indicators, the so-called key performance indicators [KPIs]."
The most useful metrics for radiologists are the ones that measure progress toward goals that are consistent with a radiology practice's defined mission, Chang said. Such goals will help radiologists create a cogent business operational model that suggests the most appropriate KPI for a group, hospital department, or outpatient imaging service.
Key performance indicators are monitored and reviewed by electronic dashboards and scorecards. Synonymous with a car control panel, dashboards supply radiologists and imaging department staff with real-time, tactical feedback about their performance. Dashboards typically use dynamic graphs, charts, and gauges on the workstation to continually report KPI and to alert users about critical events requiring their attention.
Synonymous with school report cards, scorecards deliver periodic summaries of KPI. Scorecards play a strategic role by measuring performance relative to specific goals, Chang noted.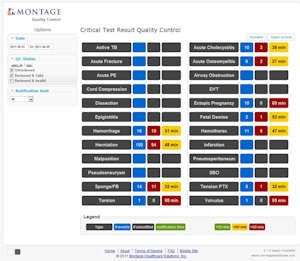 Click to enlarge.
A radiologist worklist that highlights stat and emergency radiology studies for priority reading is an example of a tactical dashboard that meets a practical real-time need. At the University of Chicago, where Chang is vice chair of radiology informatics, worklists also give orthopedic cases priority attention as a hedge against local competition for such cases.
Other roles for dashboards include the following:
Popup alerts to advise the radiologist to turn attention to studies requiring interpretation at other imaging services his practice serves.
A CT suite display that triggers a series of alarms covering when oral contrast should be administered and directing the patient to unoccupied scanners at the time of optimal opacification.
An interventional radiology dashboard that continually updates interventionalists and their nurses about the status of lab tests and other events that affect when procedures may be performed.
Investigational displays that digest clinical findings from a patient's previous imaging studies into a few sentences using language recognition software to allow the radiologist to review all prior reports without reading all the material.
Dashboards that import lesion measures from a cancer patient's electronic medical records to the workstation for comparison with dimensions acquired from a current study. Results are automatically deposited back in the electronic medical record (EMR) and copied into the radiologist's speech recognition.
While dashboards gauge radiology's ongoing battles against inefficient imaging or inaccurate diagnoses, scorecards reveal whether the individual radiologist or department is winning the associated war, Chang said. Scorecards report on imaging utilization, turnaround times, referring physician volumes, and quality control.
Though dashboards and scorecards are both necessary, Chang favors dashboards because they can alert the radiologist or technologist to address issues that may affect patient safety as they arise. In that way, problems can be solved before they show up on a scorecard, he said.
"This is an example of radiologists managing imaging and managing the consequences of inefficiency downstream," Chang said. "By doing this, I not only improve my efficiency. I improve the efficiency and quality of my hospital as well."