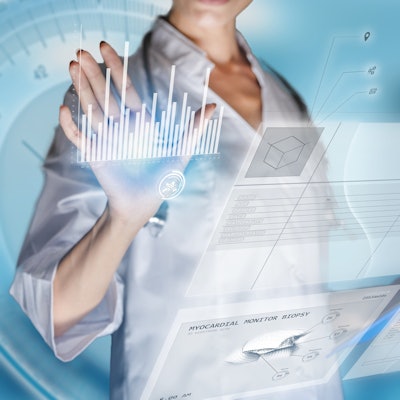 Generative AI tools such as ChatGPT may one day be an everyday part of radiology, but radiologists should be aware of their potential and risks, according to a report published on July 17 in the Journal of the American College of Radiology.
A team led by Florence Doo, MD, from the University of Maryland in its review wrote about the need for training and education in these technologies, as well as other considerations such as energy consumption.
"We must continue to explore and harness this technology while also being mindful of its limitations and potential biases, and its impact on our society and planet," Doo and co-authors wrote.
Health researchers have rapidly shown interest in how the power of large language models and natural language processing AI technologies could be harnessed in clinical practice. Radiology researchers are not exempt from this trend.
Previous studies have explored how these models like ChatGPT and Google Bard can assist radiologists with patient-facing communication and diagnosis of imaging findings. However, prior studies have also shown that the technology has much to learn before being considered for daily clinical workflows.
In their article, Doo and colleagues highlighted five areas of radiology that offered the potential for large language models: patient communication, training and education, clinical practice, referring services and healthcare system, and population health.
Patient communication
ChatGPT could be trained to automatically adjust report language to a more patient-friendly reading level and translate reports into other languages. One study demonstrated that ChatGPT-generated responses on social media were rated more highly than physician responses for both quality and empathy in most evaluations. Another study showed that ChatGPT generated mostly appropriate responses to patient questions on breast cancer screening recommendations.
However, the researchers cautioned that ChatGPT can also produce inconsistent and inaccurate responses to patients, who may be unaware of these issues. This may hinder the tool's reliance on user and expert feedback.
The team suggested that training for ChatGPT should be performed on a large representative dataset and that model outputs should provide clear warnings to patients that generative AI outputs do not truly replace advice by medical experts.
Radiology training and education
ChatGPT recently showed success in taking the U.S. Medical Licensing Exam, and two of ten mock Fellowship of the Royal College of Radiologists examinations. The researchers suggested that the tool could be used in routine nonclinical writing, such as basic drafts of multiple-choice questions, recommendation letters, or elementary research abstracts.
However, previous studies have also shown that generative AI can produce false data such as fake citations and mathematical errors, as well as presenting errors as facts. Additionally, since ChatGPT relies on user feedback, it can be "convinced" to change its mind about information, the researchers warned. They wrote that the technology should be grounded to specified trusted sources and fact-checked rigorously with clear human oversight.
Radiology clinical practice
Clinical use of ChatGPT is being actively investigated and if successful, can improve the quality of medical reporting content and the time needed to create a full report. The researchers added that as its capabilities advance, generative AI could serve as a virtual automated assistant. This would give radiologists more time to focus on their image interpretation work.
However, the report's authors wrote that it is unknown whether more adjustments will be needed for clinical translation since generative AI is trained on large-volume general data. Other current risks the report authors wrote on in this area include the risk of inaccuracies in generated text and automation bias.
Referring services and the healthcare system
The researchers suggested that once perfected, ChatGPT could also act as a "curbside consultant" by supporting referring providers when ordering imaging studies, as well as supporting radiologists and radiology technologists by obtaining relevant electronic medical record history for image protocoling and reporting.
However, they wrote that physician input and oversight on research will be needed to either develop medicine-specific foundation models or refine current general foundation models with medical training data.
They added that ChatGPT may only comprehend complex inputs in a limited capacity, meaning with increasing complexity and intricacy, it could generate inaccurate, biased, or harmful responses. The team wrote that expert oversight is needed to avoid this issue.
Population health
While merely conceptual at this point, ChatGPT's potential in addressing public health challenges by analyzing real-time data has been touched on. One recent study showed preliminary capabilities of the tool to reflect on a past mpox outbreak and suggest new research directions.
Still, the researchers cautioned that the data used to train ChatGPT goes up to 2021, meaning embedded historical can play a factor in this area. They also wrote that ChatGPT is not able to access real-time events or the internet. Even if it could, monitoring and analyzing such large data volumes in real time could be costly.
What's needed?
Doo et al wrote that with all this in mind, there is a "pressing need" for training and continuing medical education in several areas. These include fundamental AI principles, inherent limitations and pitfalls, and ways to advocate for effective safeguards.
Still, they highlighted that ChatGPT and other generative AI technologies will continue their advancement and that it's up to medical professionals, radiologists included, to pay heed to their potential and pitfalls.
"With careful consideration and collaboration, generative AI has the potential to revolutionize radiology and healthcare as a whole, making healthcare more efficient, accessible, and equitable for all," they wrote.
The entire report can be found here.