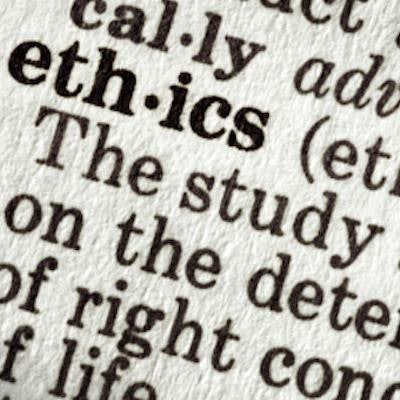 The adoption of artificial intelligence (AI) in radiology engenders complex societal and ethical issues, and it's time to begin developing codes of ethics and practice for the technology, according to a statement published October 2 by seven radiology and imaging informatics organizations in North America and Europe.
In the multisociety statement, representatives from the American College of Radiology (ACR), the RSNA, the European Society of Radiology (ESR), the Society for Imaging Informatics in Medicine (SIIM), the European Society of Medical Imaging Informatics (EuSoMII), the Canadian Association of Radiologists (CAR), and the American Association of Physicists in Medicine (AAPM) shared their vision for how the ethical use of AI in radiology should promote well-being, minimize harm, and ensure that the benefits and harms are distributed among the possible stakeholders in a just manner. The organizations had previously published a draft of the statement in March.
"We believe AI should respect human rights and freedoms, including dignity and privacy," the authors wrote, led by Dr. Raymond Geis of the ACR Data Science Institute. "It should be designed for maximum transparency and dependability. Ultimate responsibility and accountability for AI remains with its human designers and operators for the foreseeable future."
The authors detail specific ethical considerations related to data, algorithms, and practice. The document is available online in the Journal of the American College of Radiology, Radiology, Insights into Imaging, and the Canadian Association of Radiologists Journal.
The radiology community needs to start creating codes of ethics and practice for AI, according to the group.
"These codes should promote any use that helps patients and the common good and should block use of radiology data and algorithms for financial gain without those two attributes," the authors wrote. "Establishing these regulations, standards, and codes of conduct to produce ethical AI means balancing the issues with appropriate moral concern."
Achieving ethical AI will require all involved parties to want to gain trust in the technology, according to Geis and colleagues.
"To ensure the safety of patients and their data, AI tools in radiology need to be properly vetted by legitimately chosen regulatory boards before they are put into use," they wrote. "This requires both radiology-centric AI expertise and technology to verify and validate AI products."
The societies believe that regulations, standards, and codes of conduct must be agreed upon and continuously updated. These codes of conduct must also continually emphasize transparency, the protection of patients, and vigorous control of data versions and uses. Furthermore, continuous monitoring for unintended consequences and loss of quality must be performed following implementation, with protocols in place for determining causes and implementing corrective action.
In addition to considering the ethics of AI in radiology now, it will be important to regularly reassess this topic, the authors noted.
"New ethical issues will appear rapidly and regularly, and our appreciation of them will change over time," they wrote.
The group emphasized that radiologists will remain ultimately responsible for patient care, and they will need to acquire new skills to do their best for patients in the new AI ecosystem.
"The radiology community needs an ethical framework to help steer technological development, influence how different stakeholders respond to and use AI, and implement these tools to make best decisions and actions for, and increasingly with, patients," the authors wrote. "We hope that this statement clarifies the core principles upon which this framework ought to be based in each community."