The ever-increasing role that advanced visualization technologies play in today's radiology practice will be fully evident at this year's RSNA meeting in Chicago. Those seeking to keep up on the latest developments in 3D and computer-aided detection (CAD) will find a plethora of educational opportunities to choose from at McCormick Place.
3D will be well-represented in scientific sessions, with highlights including new automatic segmentation techniques and presentations on how 3D quantitative analysis can reliably measure coronary plaque. A number of education exhibits also will feature important applications for 3D.
In CAD, a broad range of scientific papers will be presented, covering the technology's use in a variety of lung applications, the prostate, the heart, the liver, and, of course, the breast. In virtual colonoscopy CAD, researchers are examining ways of improving the technology's utility and efficiency.
And interest continues to surge around the use of smartphones and Apple's iPad tablet computer for viewing medical images.
Refresher courses and other sessions
Of course, RSNA educational opportunities don't just end with scientific sessions and education exhibits. Advanced visualization topics will be covered in a number of refresher courses and other sessions as well.
In 3D, a talk on advanced imaging techniques will be the final presentation in a "Practical Informatics for the Practicing Radiologist" refresher course on Monday, November 29 (10:30 a.m.-12:00 p.m., II22C, Room S501AB).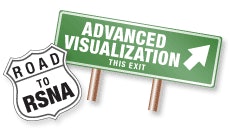 Another Monday course will focus on 3D interactive visualization of DICOM images for radiology applications (2:30 p.m.-4:00 p.m., IA22, Room S401CD).
On Tuesday, November 30, an image processing and 3D imaging refresher course will feature talks on organ and tumor segmentation, 3D for education, and enterprise 3D tools to enhance your practice (8:30 a.m.-10:00 a.m.; RC330A, B, and C; Room S403A).
Those sticking around until Friday, December 3, will be interested in an advanced visualization refresher course offered in association with the Society for Imaging Informatics in Medicine (SIIM). Presentations will cover 3D and advanced processing, how to select a 3D system for your environment, and ensuring the success of your 3D laboratory (8:30 a.m.-10:00 a.m.; RC826A, B, and C; Room S403B).
A number of hands-on 3D workshops will also be held throughout the week.
As for CAD, a minicourse on Sunday, November 28, will include talks covering a short history of CAD, engineering aspects of CAD, and the radiologist's perspective on CAD (2:00 p.m.-3:30 p.m.; RC123A, B, and C; Room S504CD). On Monday, November 29, another minicourse on CAD will address evaluation issues, including talks on clinical and technical evaluation issues; the limitations of CAD clinical studies; and the U.S. Food and Drug Administration's perspective (8:30 a.m.-10:00 a.m.; RC223A, B, and C; Room S504CD).
Bright and early on Tuesday, November 30, a controversy session will tackle CAD for breast, lung, and colon cancer quantitative image analysis for clinical practice (7:15 a.m.-8:15 a.m., SC30, Room E351).
Breast CAD enthusiasts won't want to miss a Tuesday refresher course, which will include talks on breast computer-aided detection, computer-aided diagnosis and beyond, and clinical aspects of computer-aided detection and computer-aided diagnosis (8:30 a.m.-10:00 a.m.; RC321A, B, and C; Room S503AB).
Another CAD minicourse is on tap for Tuesday, featuring CAD applications in colon imaging and beyond (4:30 p.m.-6:00 p.m.; RC423A, B, and C; Room S504CD). Also on Tuesday, an additional refresher course will examine CAD for the rest of the body (4:30 p.m.-6:00 p.m.; RC430A, B, and C; Room E263).
Other CAD-related refresher courses include a Thursday, December 2, CAD with tomosynthesis session, featuring talks on CAD with breast tomosynthesis, computerized detection of lung nodules on chest tomosynthesis, and optimizing the reading of digital breast tomosynthesis examinations (4:30 p.m.-6:00 p.m.; RC725A, B, and C; Room S404AB). A mammographic CAD presentation also will be given during a Friday, December 3, course on advanced breast imaging/technology (8:30 a.m.-10:00 a.m.; RC815A, B, and C; Room N228).